FREQUENTLY ASKED QUESTIONS:
Where are the best locations to take our dog for engagement pictures?
Should we plan to have someone else come to help with our dog?
Do you need special permission to take a dog on certain properties?
We are answering some of our top questions about including dogs in your engagement session or family session here.
Alissa and Mike- Mt. Greylock
Lisa met Alissa and Mike with their dogs, Nala and Rubah at the summit of Mt. Greylock. Dogs are allowed here and encouraged to hike trails with their owners so we knew this would be a great place for their session.
Alissa's parents came with them so that after a few pictures with their dogs, Alissa and Mike could enjoy a session with just the two of them.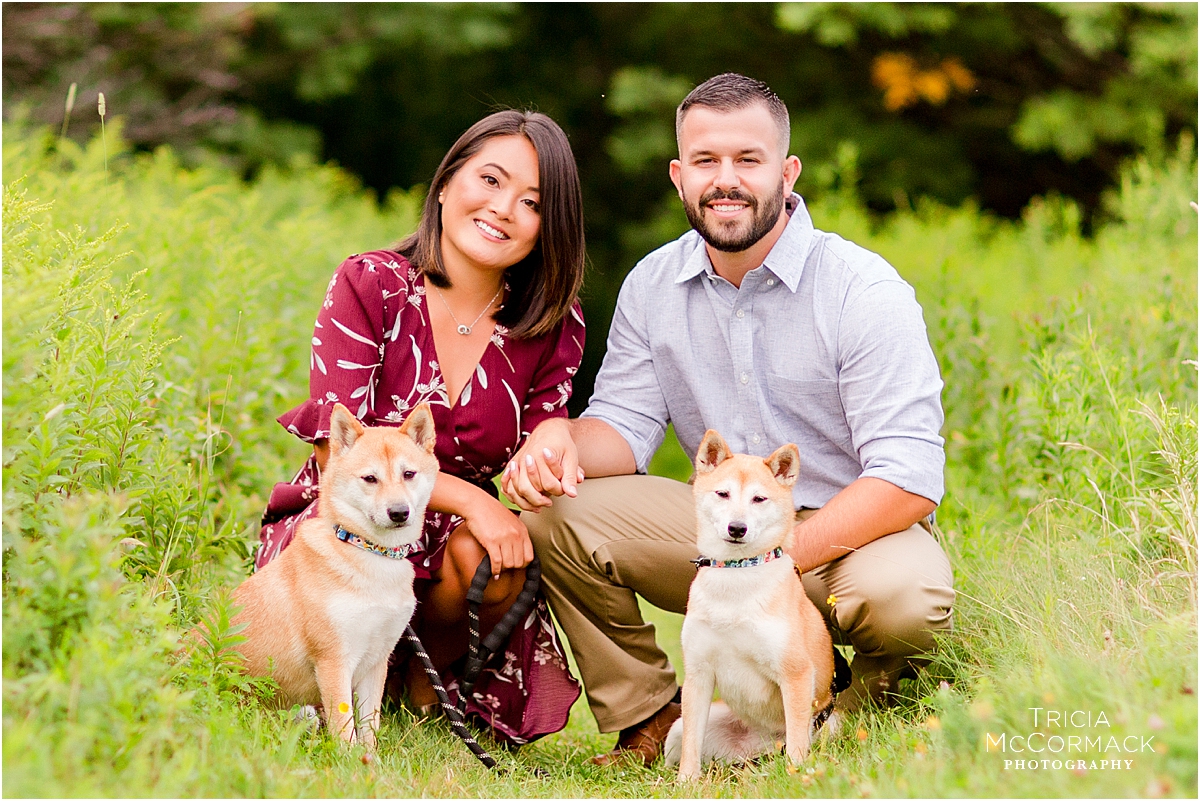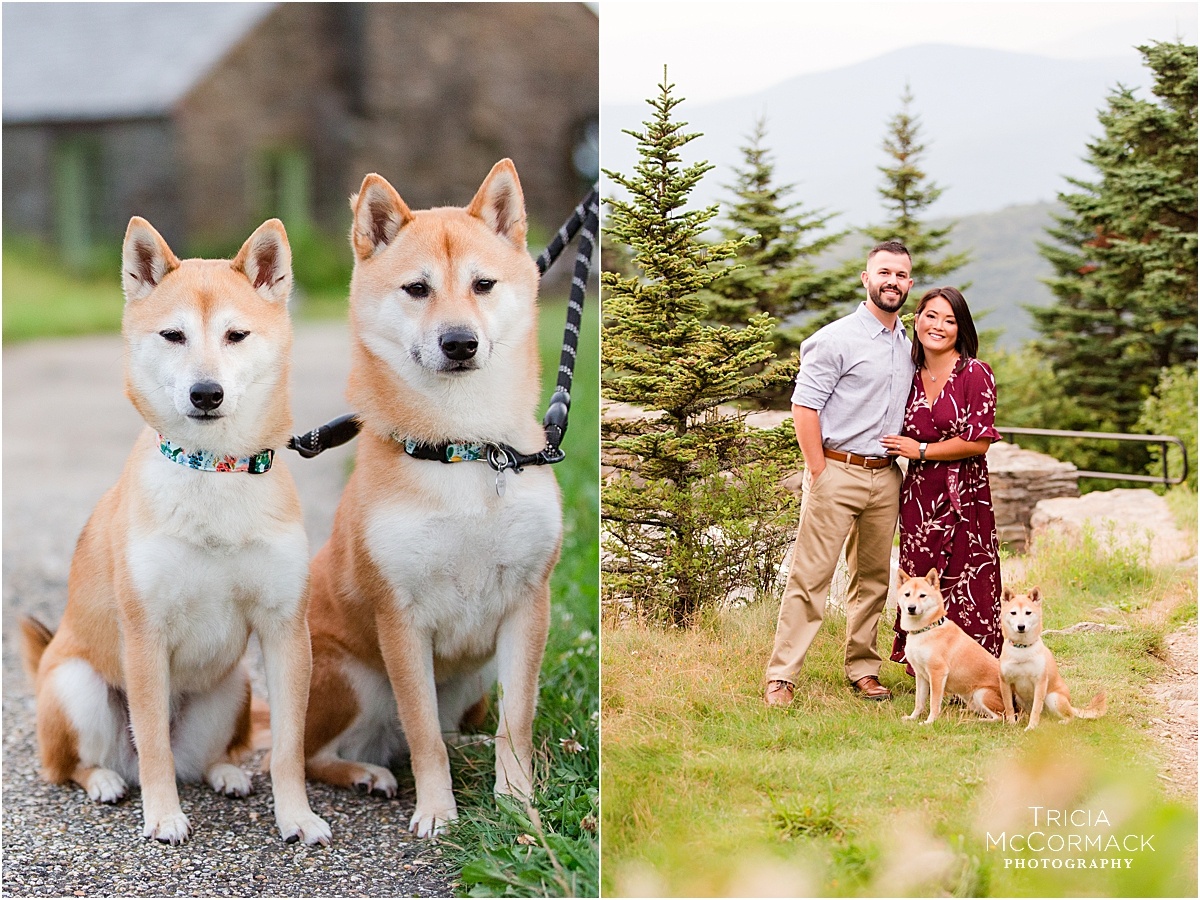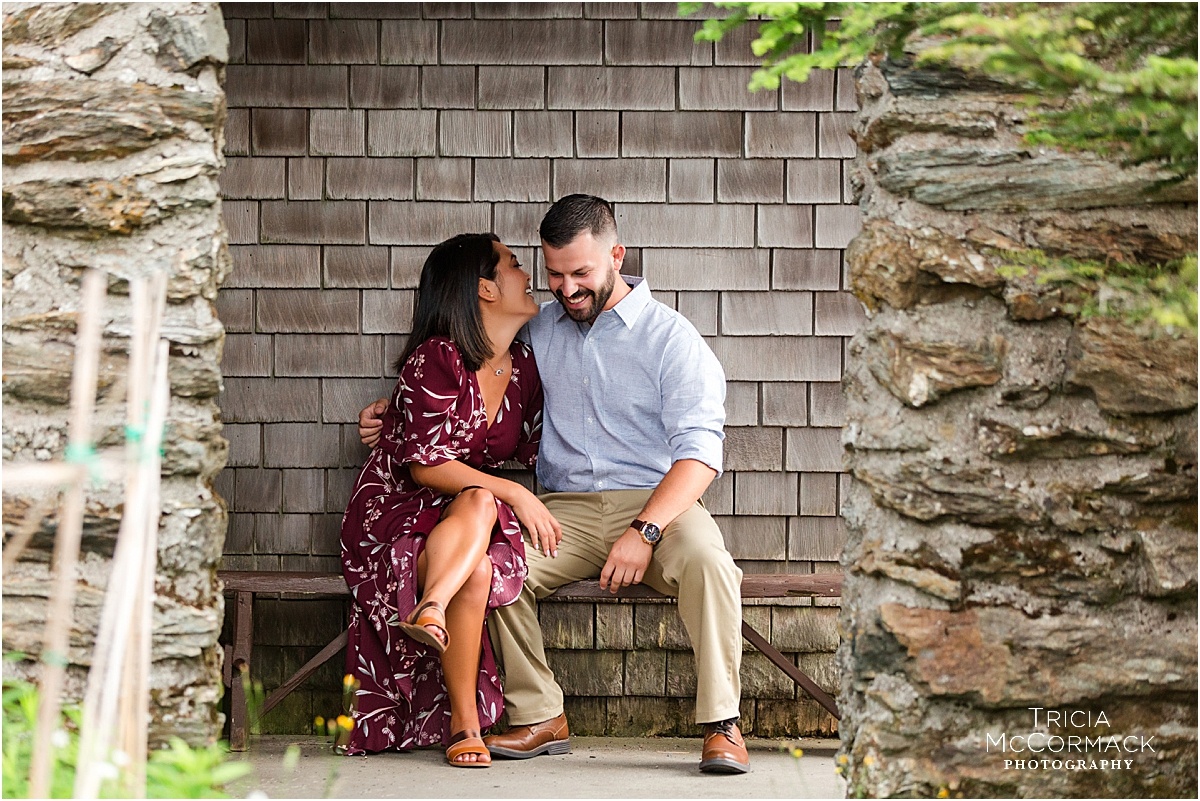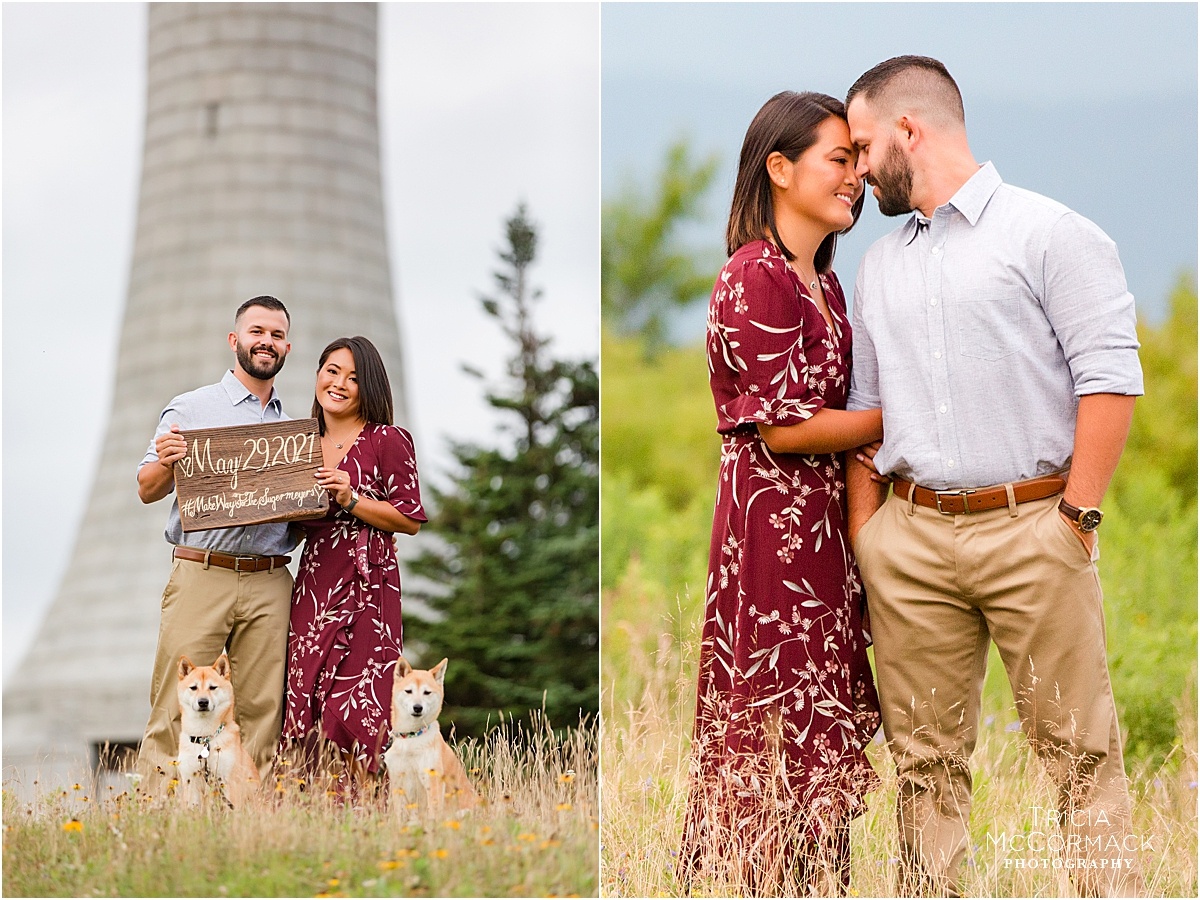 Lisa and Mike – The Mount
This was a very special shoot that I took for Lisa. We set out to just take photos of Lisa and Mike for their holiday card but little did Lisa or I know, Mike had an engagement ring and was about to propose. It was so exciting and I'm so happy to say although I was shaking from surprise and excitement – I got the action photos. Oh and of course Lisa said yes!
Aries came along for the entire shoot. The Mount does ask that you sign up for a membership to take photos at their venue and to let them know when you'll be taking them. Asking permission to bring your dog is also a requirement, I'd also suggest that dogs are kept on leash.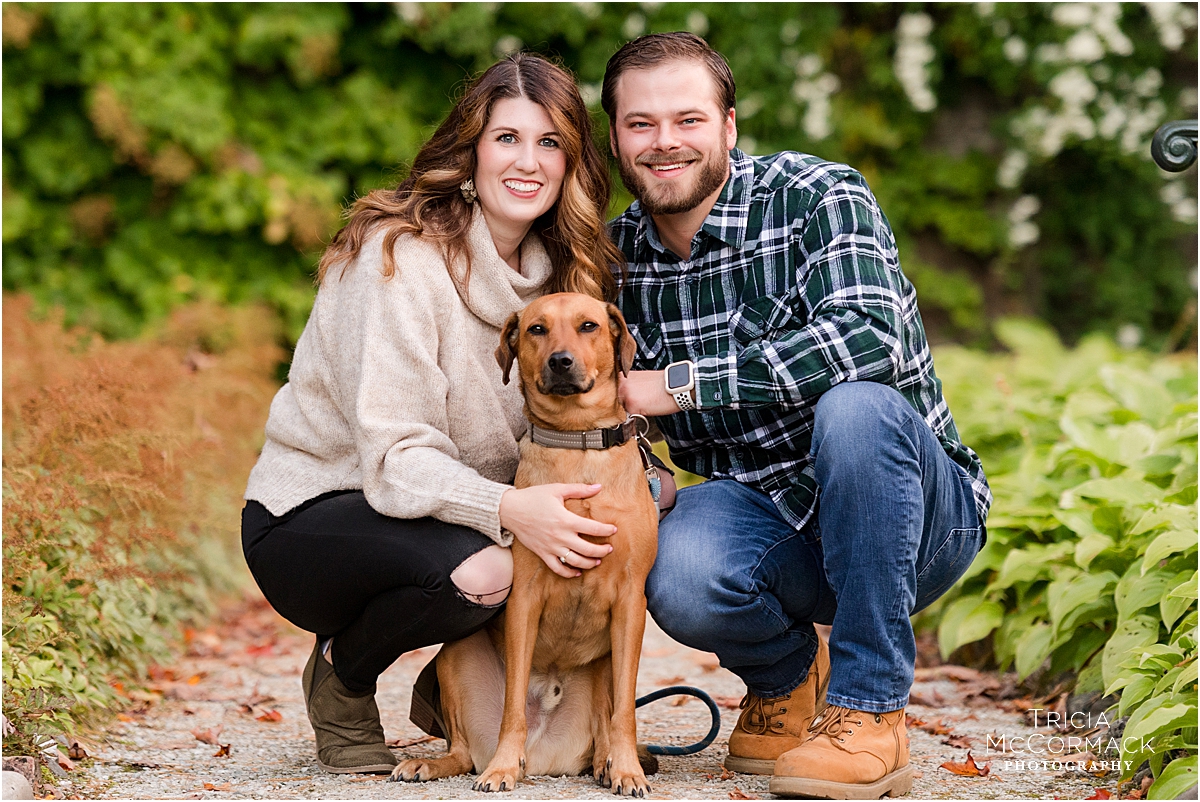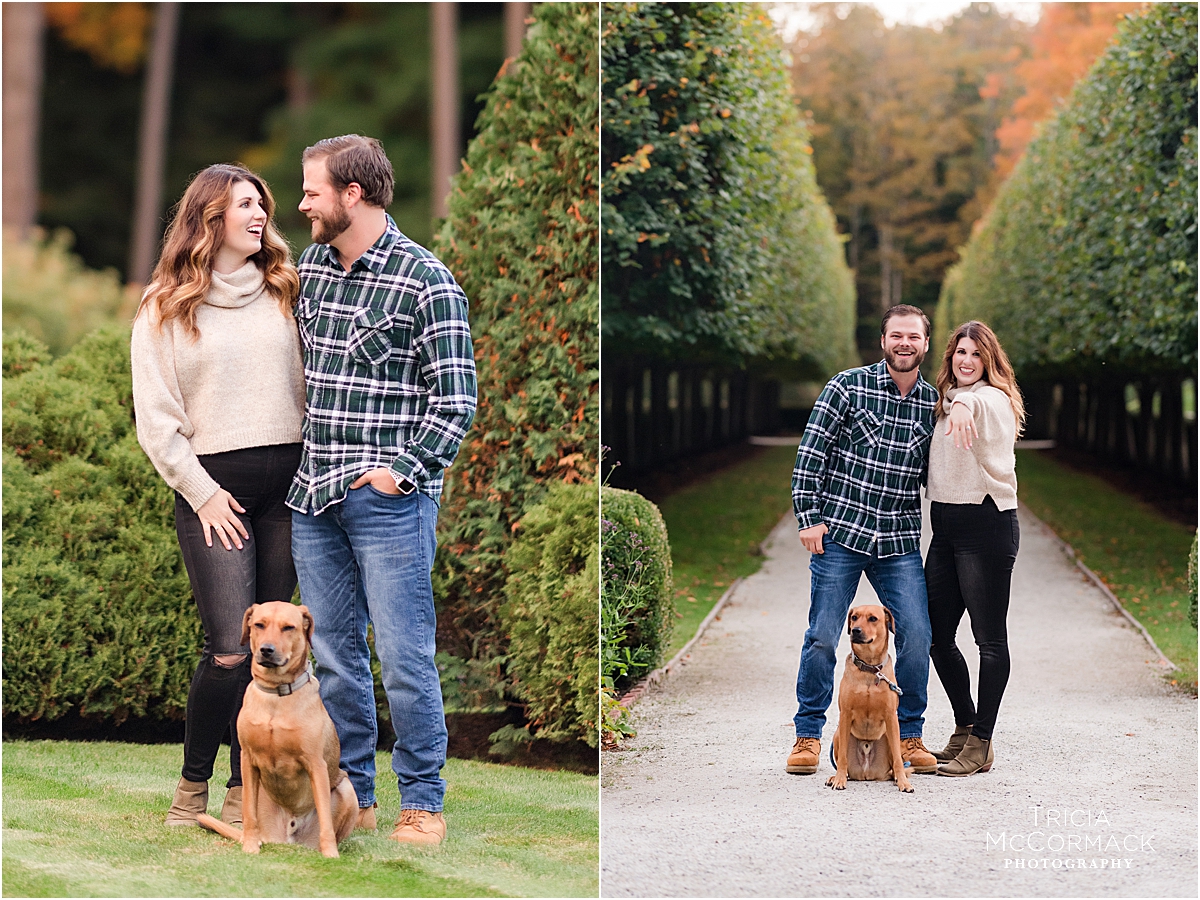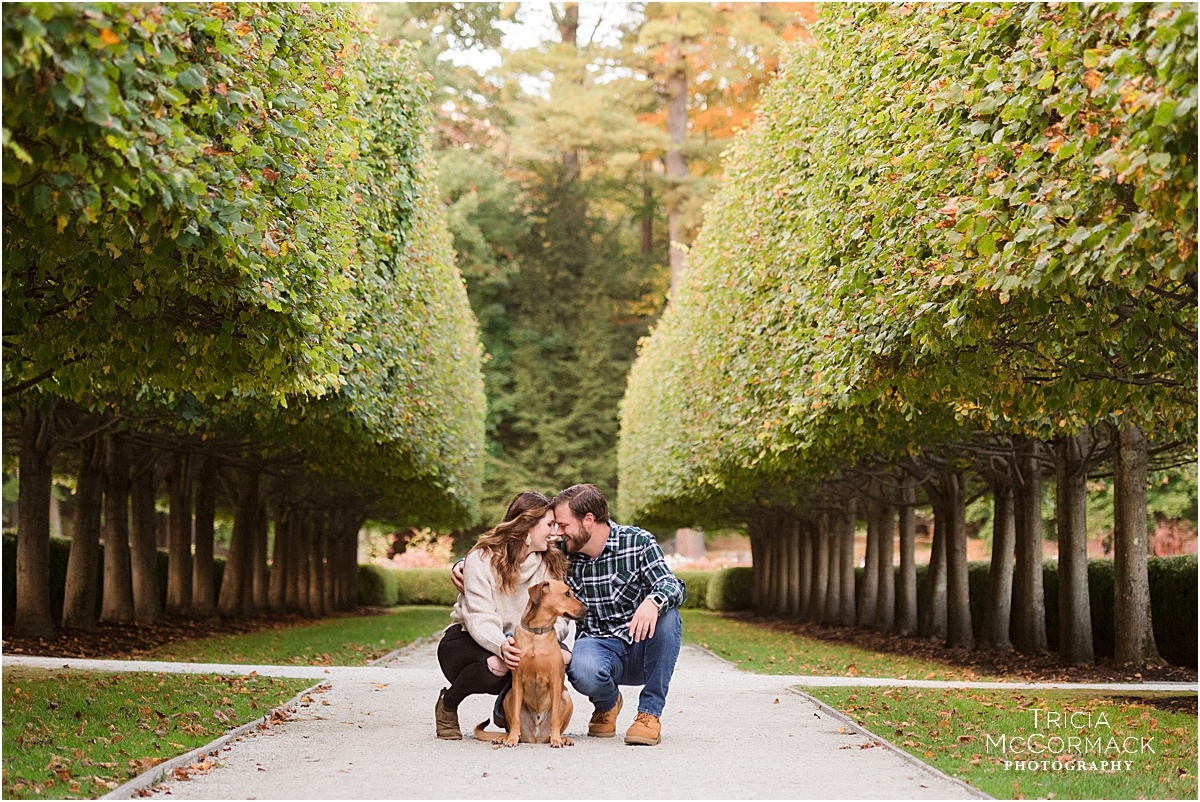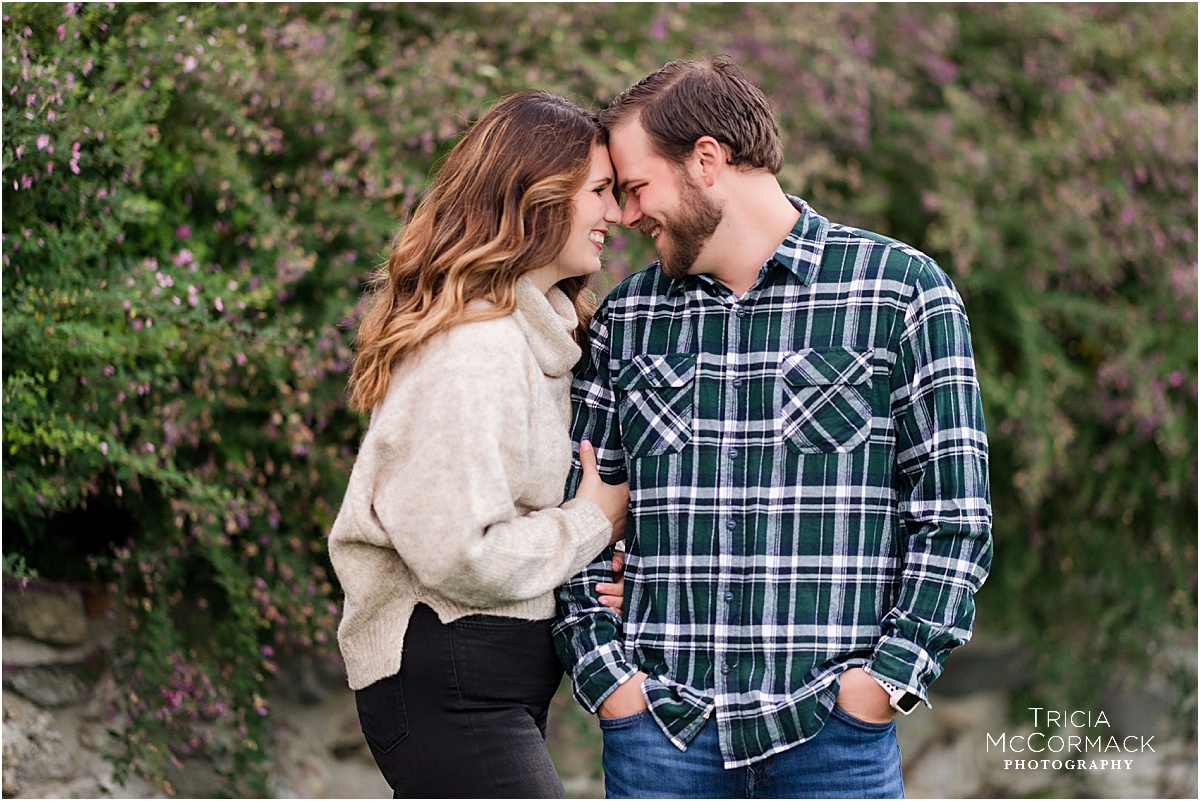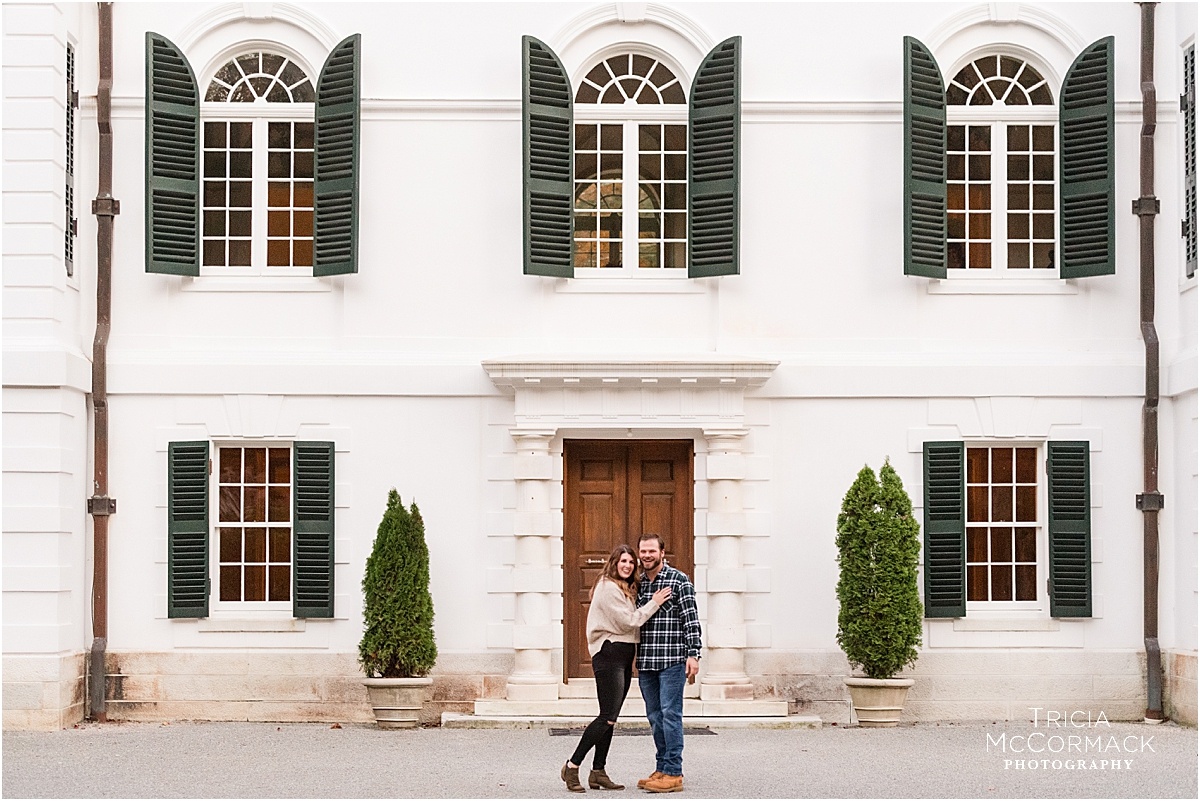 Emily and Andrej- Gould Meadows
I headed to Gould Meadows in Stockbridge for this engagement session with Emily and Andrej and their dog Ellie. They had driven from Connecticut so Ellie was happy to get out of the car and run around. There is plenty of space to do that at Gould Meadows.
I must warn you though your dog might get a little dirty since there are streams and a lake. Once we were done with pictures, Emily and Andrej had Ellie go for swim. This location is where you can let your dogs go off leash.
Happy couple and very happy dog made a very grateful photographer too.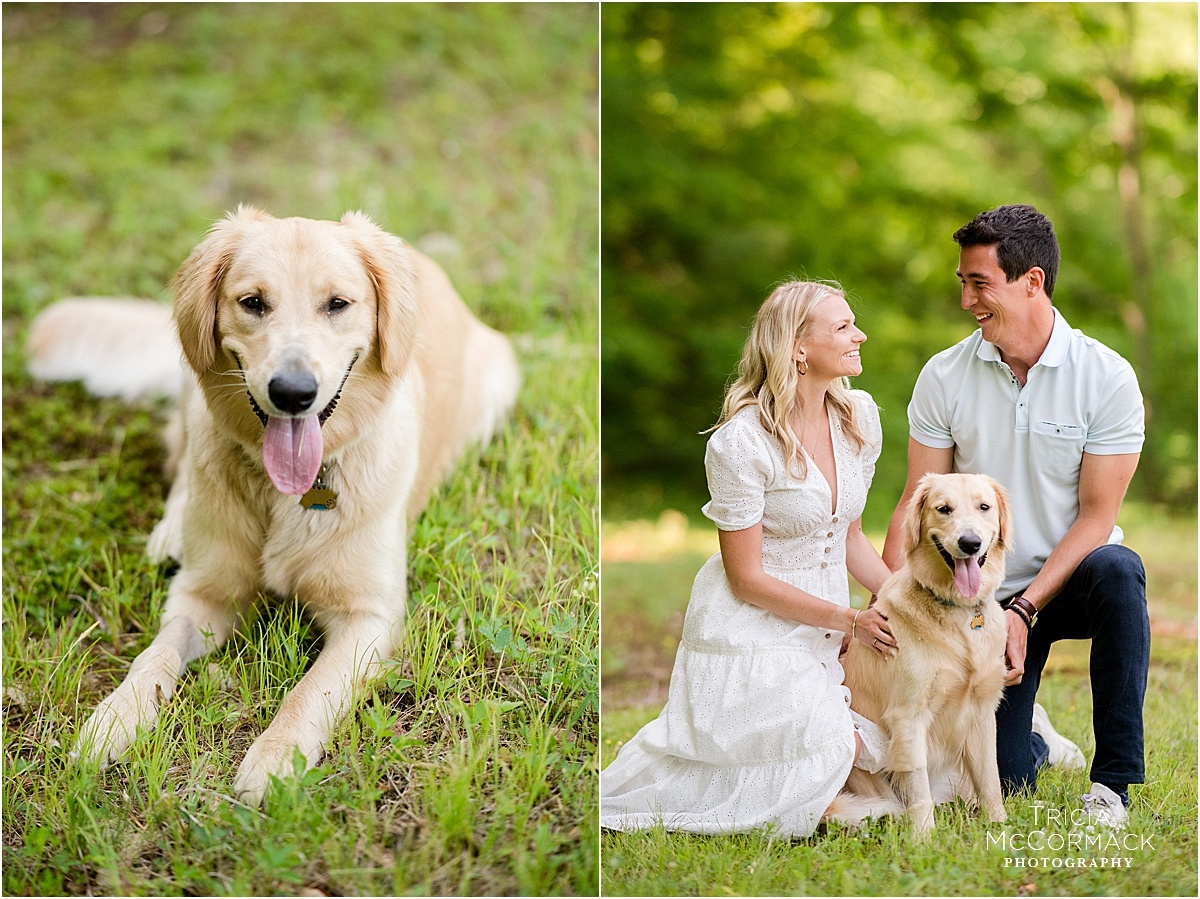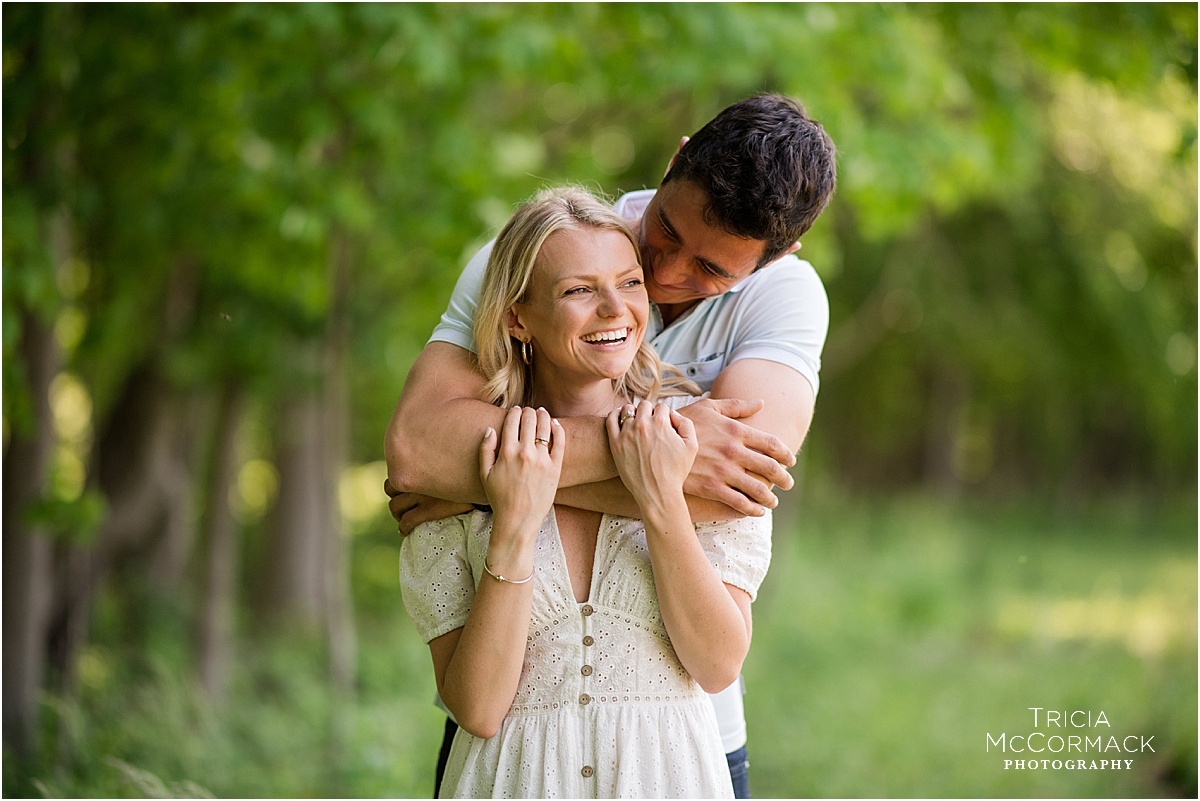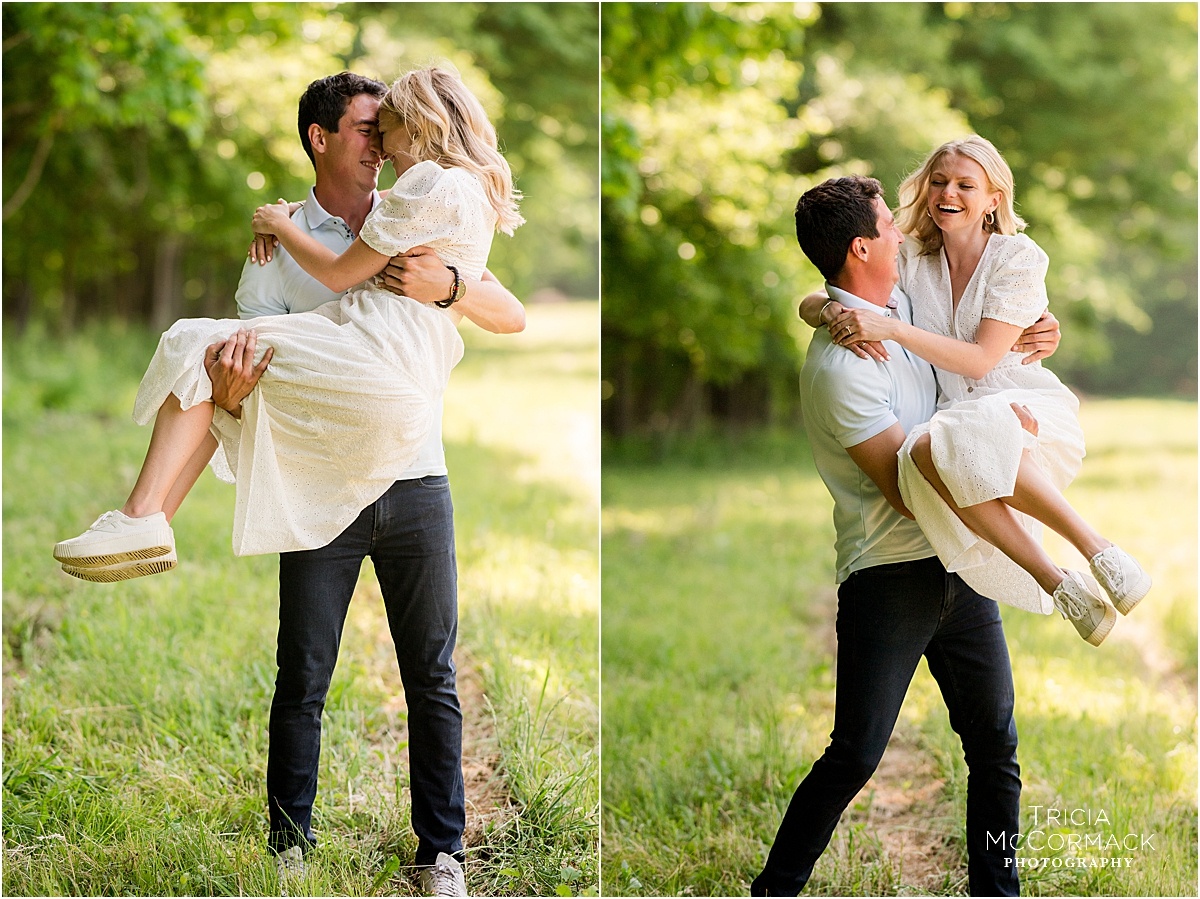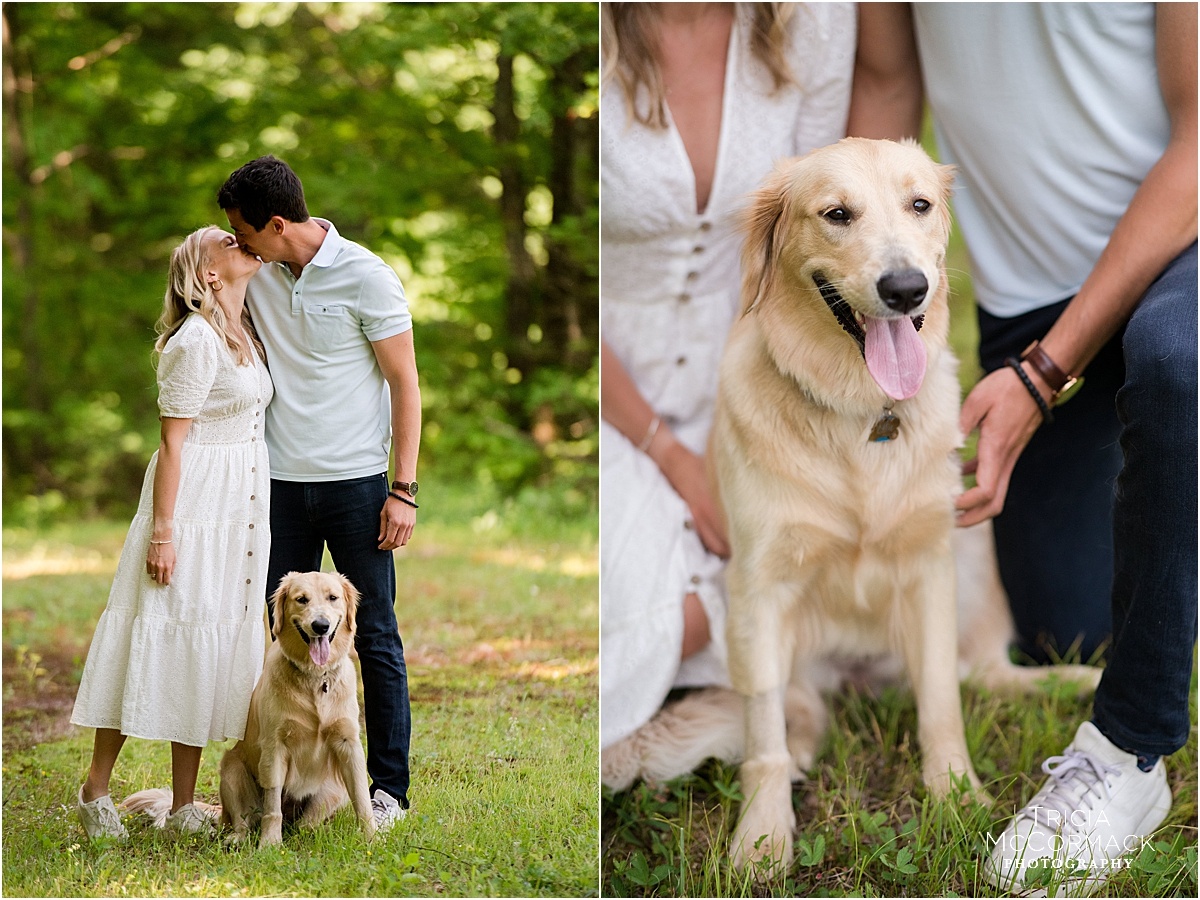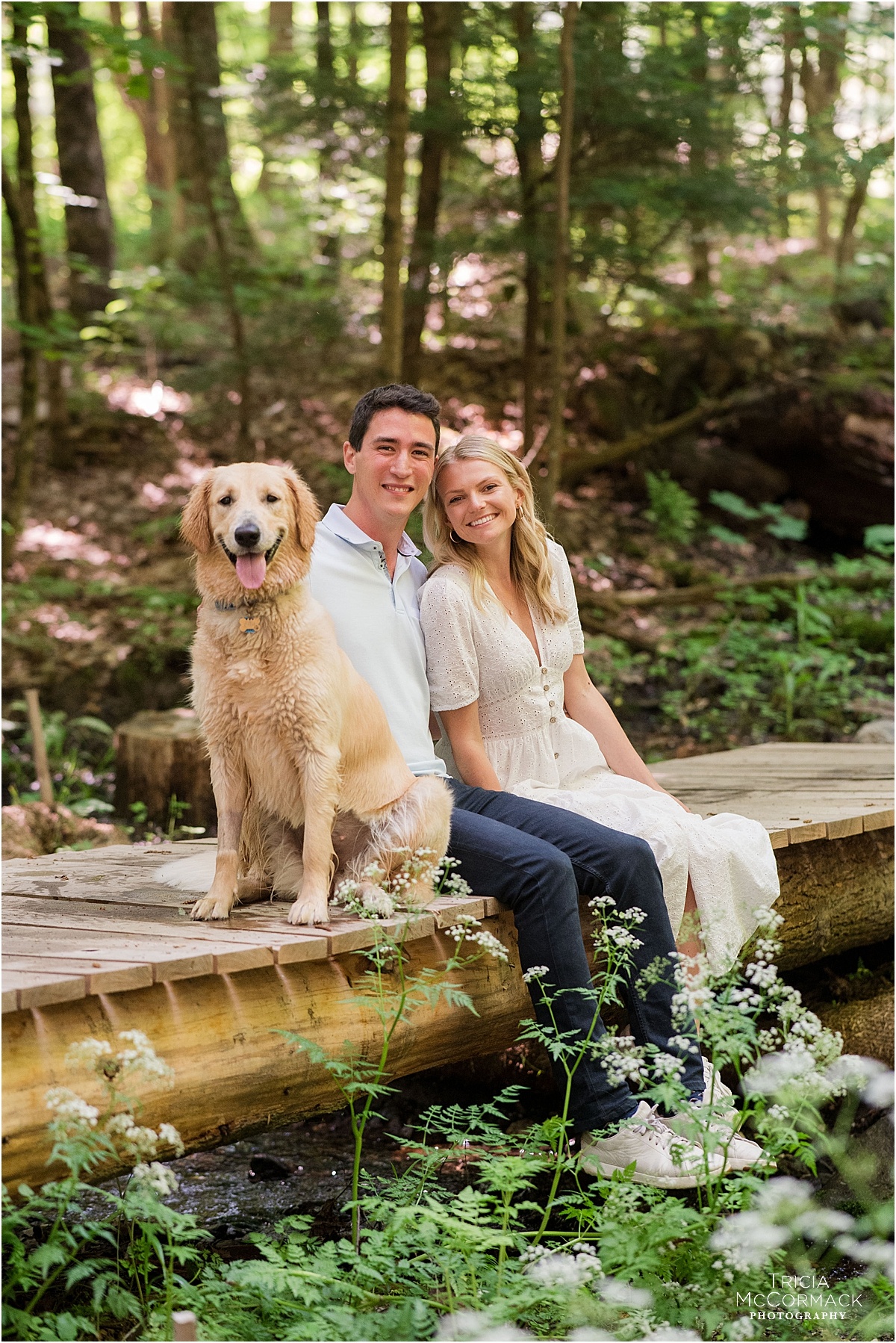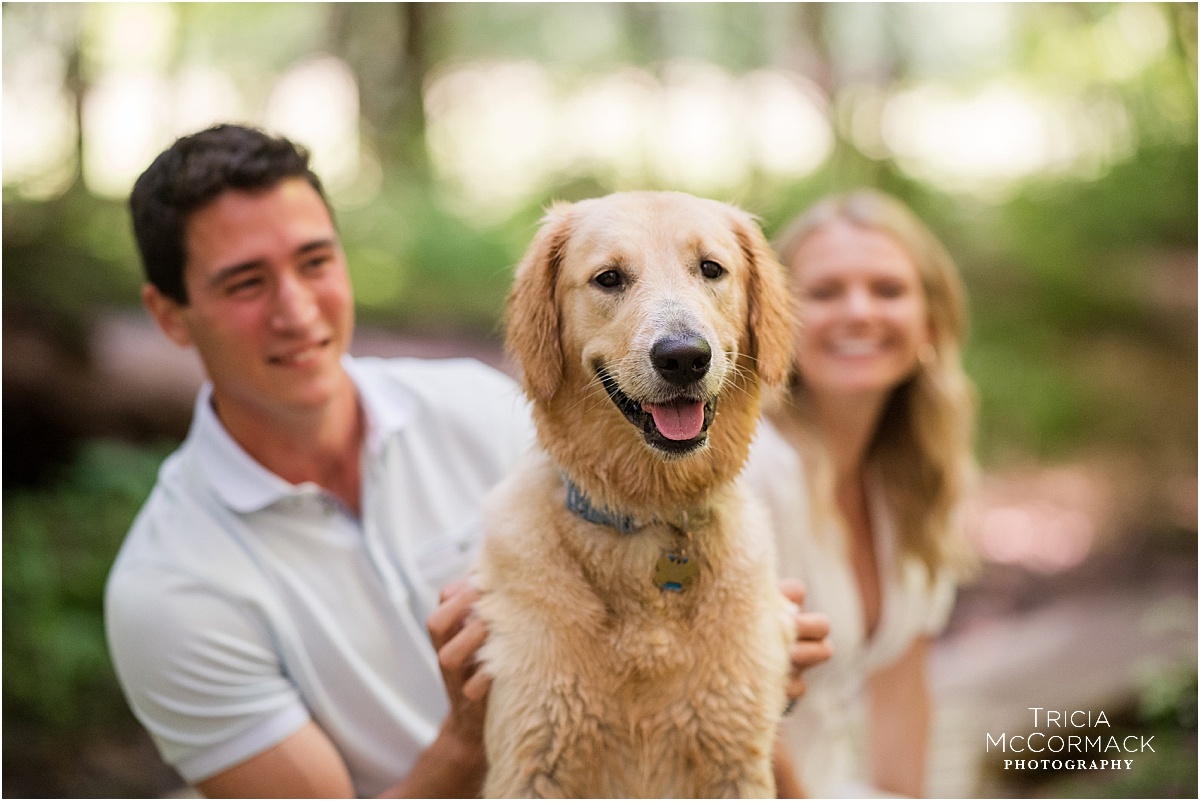 Amanda and Alex – Parson's Marsh
Amanda and Alex definitely wanted Otis to be part of their engagement session and use his bandana to remind people to save their wedding date. Alex brought his parents along to help get Otis' attention in pictures (it worked really well) and to take their pup for an extended walk so we could just get some pictures of Amanda and Alex.
Parson's Marsh has a raised bridge trail which isn't ideal for dogs. It also has a pond where if your dog likes water could be tempted to jump in. I used the path to keep Otis clean and I loved the look of this groomed woodsy trail.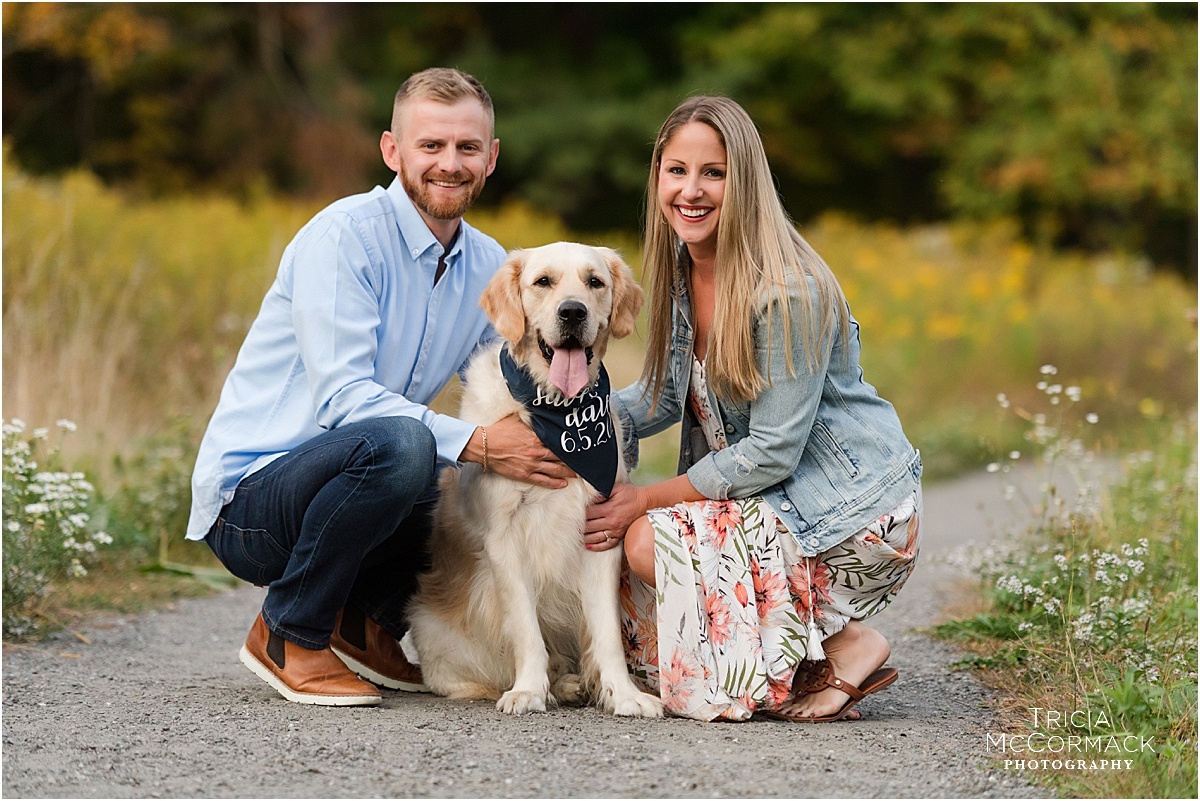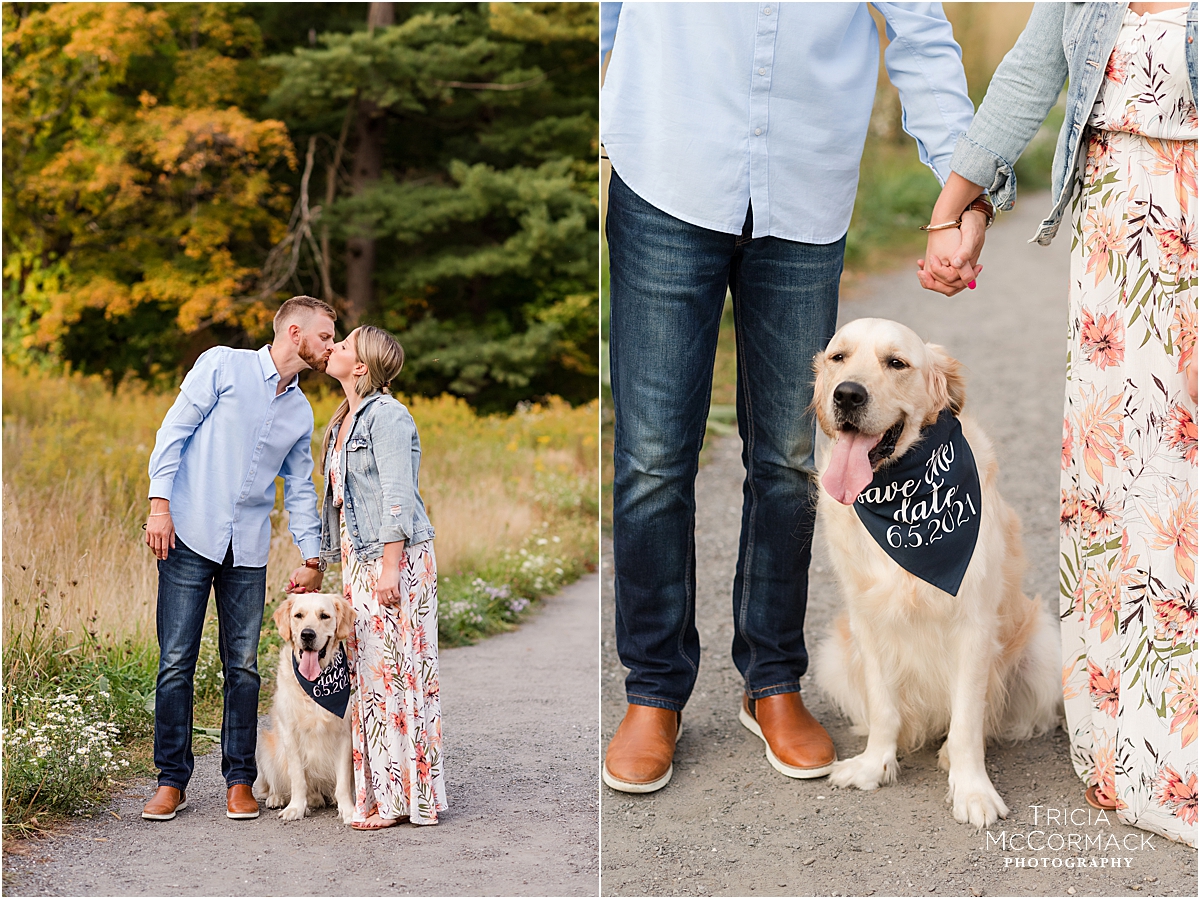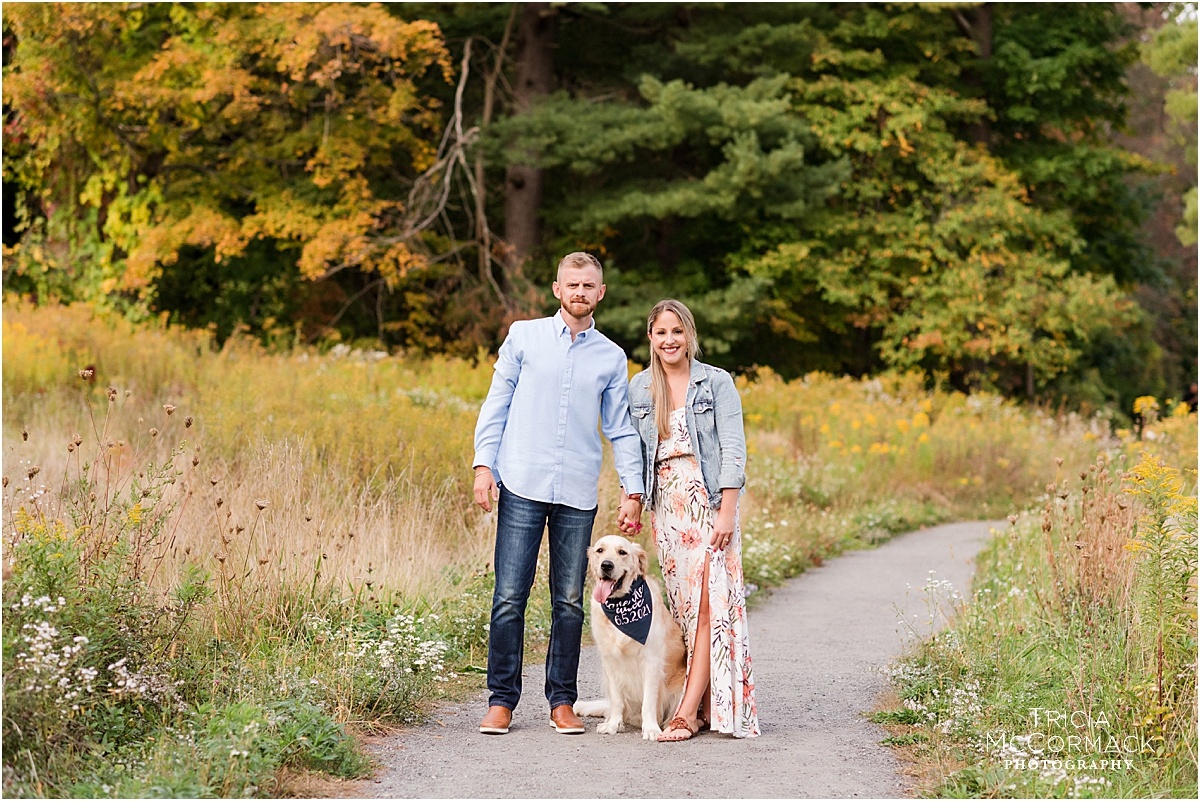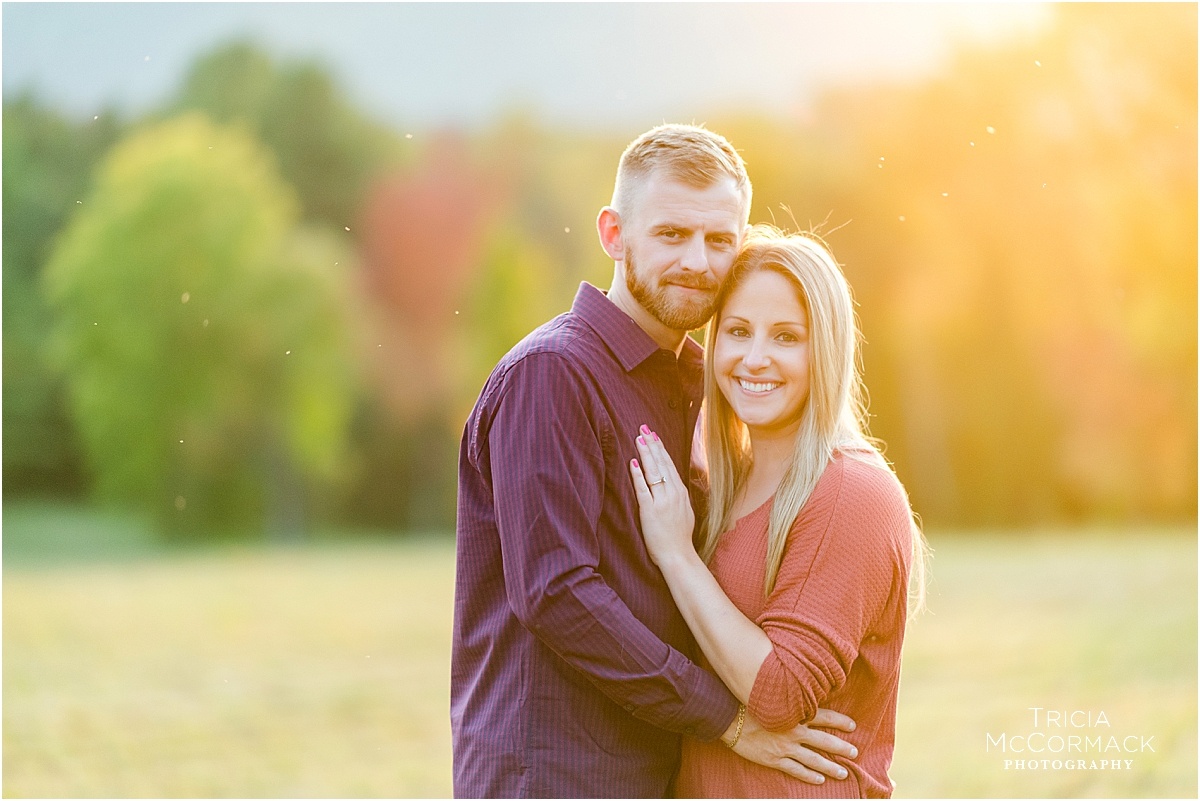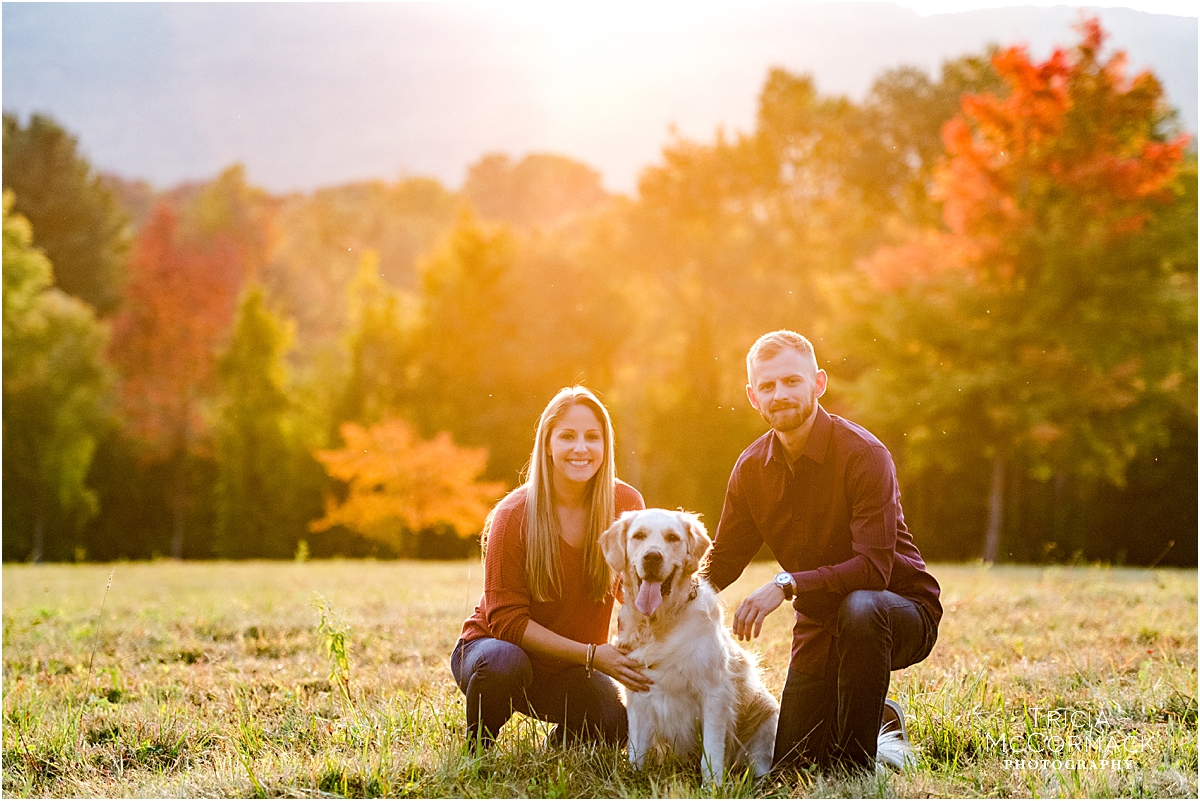 Tiffany and Kevin – Kennedy Park
In early spring, Tiffany, Kevin, Yogi and I headed into one of my favorite places – Kennedy Park. There are several trail heads and I know these woods very well. This is a dogs haven, they can be leash free here for miles. Something to keep in mind is that your dog will see other dogs here.
I loved this spot with birch trees for my session with Kevin and Tiffany and thought it was so sweet that when Kevin arrived early, he carved his and Tiffany's initials into the tree (pictured below)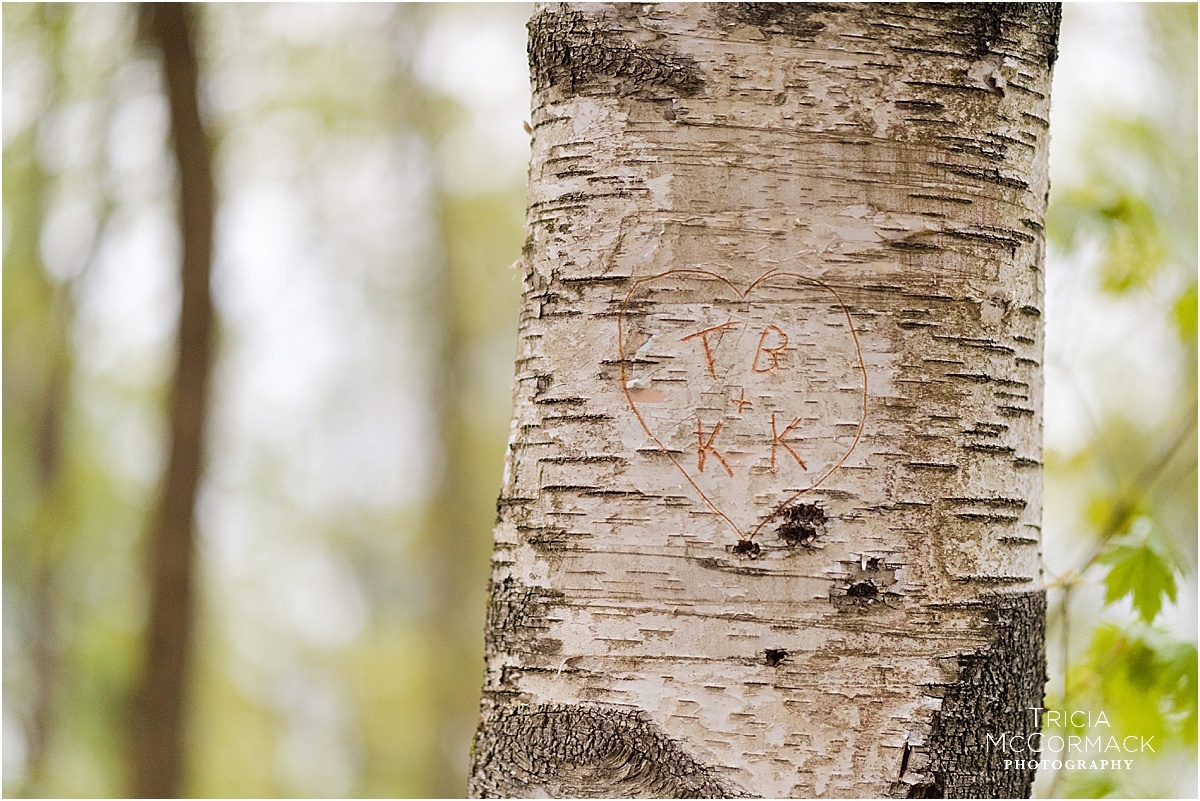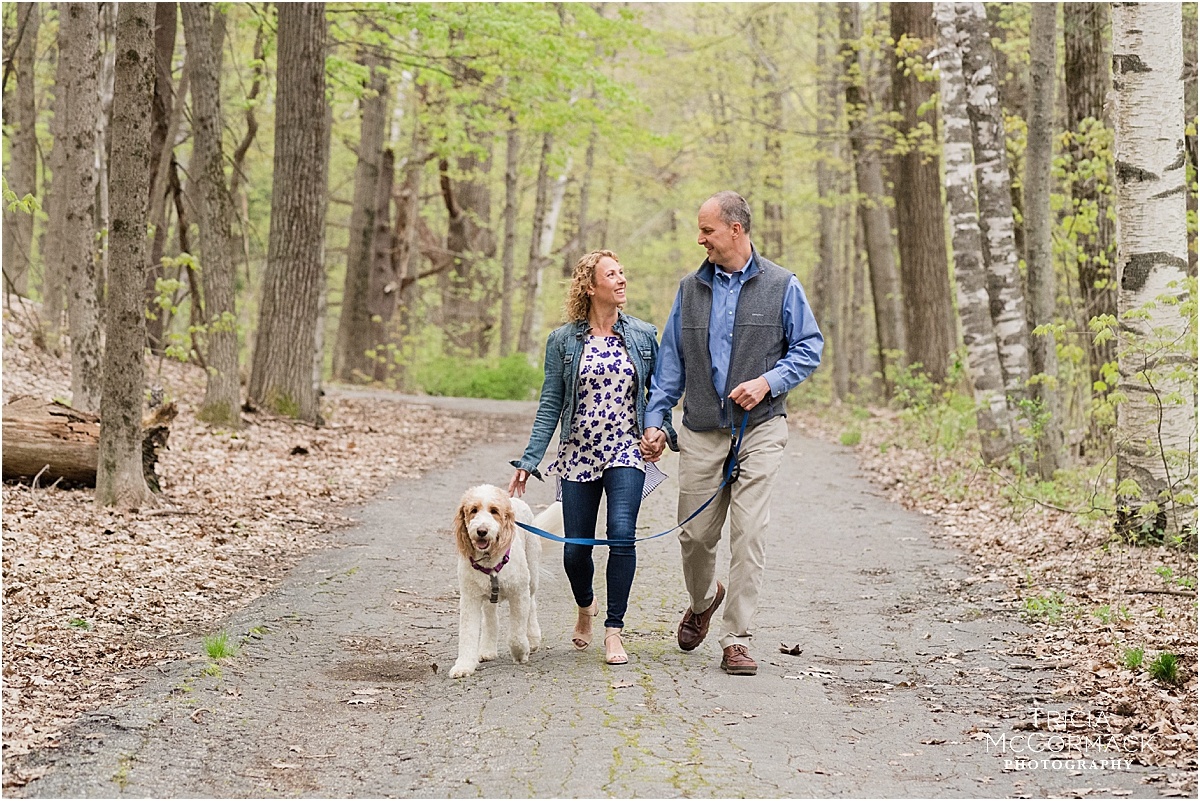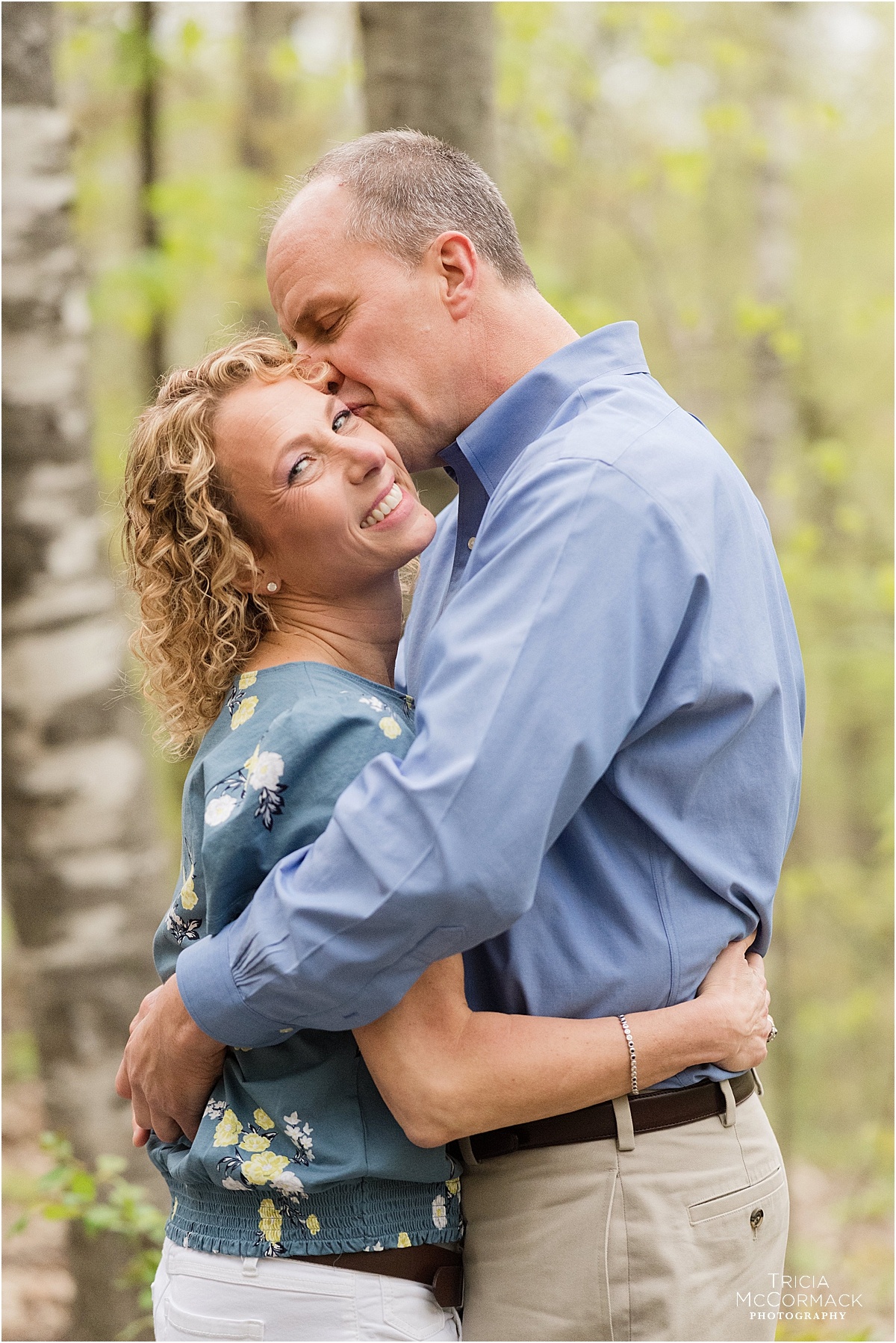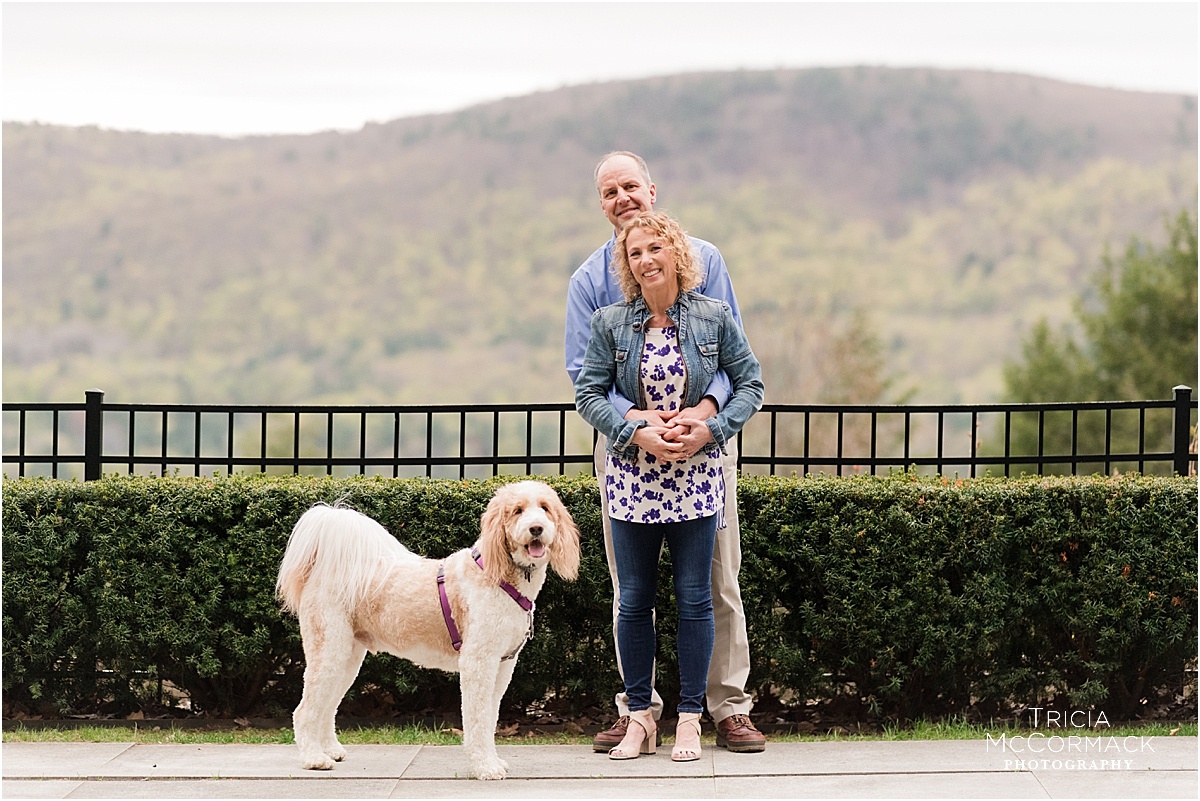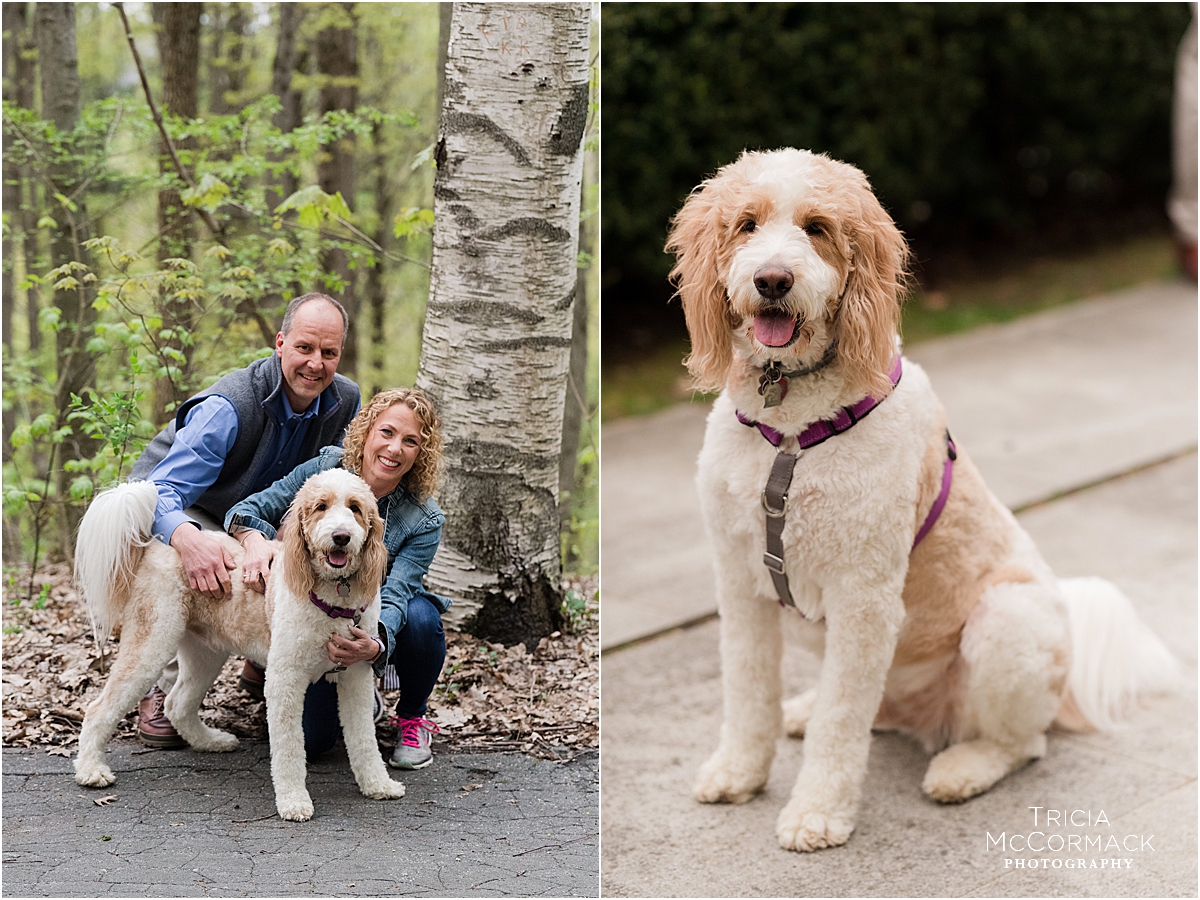 Sarah and George – Edith Wharton Park
Sarah, George, Nala and I met in this beautiful spot that borders Laurel Lake. The tall grasses and mountain views over the lake make this spot a hidden gem in Lee. We took Nala on a few trails but kept her on leash to keep her safe with the nearby road. Sarah's mom came to pick up Nala halfway though the session so Sarah & George could have a few photos just the two of them.