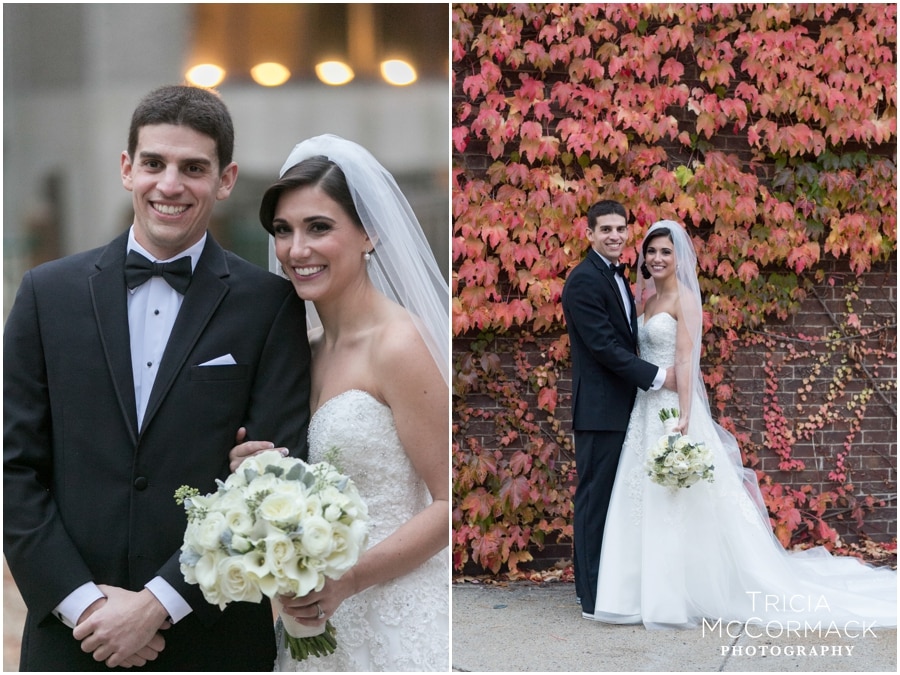 Leah and Scott were married on November 7th, with a ceremony and reception at Temple Israel Boston.
I was so excited about this wedding, because the last time I saw them, I was hiding behind a tree! Scott hired me to capture Leah's surprise engagement in the Berkshires at Blantyre, and it was one of the most exciting shoots I've ever done. We were instant friends, and I couldn't wait to see them again.
When I arrived to start shooting the wedding, I was already stunned by Leah. She looked amazing, and her makeup was incredible!
In fact, Leah's attention to detail was impeccable in everything from her own appearance to the little details throughout the day. Even the cocktail napkins had fun facts about them as a couple, and the room was gorgeously decorated. Well done, Leah!
It was warm outside on the day of the wedding, and we were able to catch some pictures with trees that still had their leaves. It seemed like even the outdoors wanted to contribute to Leah's beautiful vision of that day.
After the wedding, the reception kicked into gear, with a fantastic band that got everyone dancing. The whole day was just so much fun!
Leah & Scott, thank you again for including me in your perfect wedding day. Congratulations to both of you!
VENUE – Temple Israel of Boston
FLORIST – Le Fleur Florists
HAIR STYLIST – Judey Cunha
MAKEUP ARTIST – Janelle Parker
CATERER & CAKE ARTIST – The Party Specialist
BAND – Beantown Boston
JEWELER – Barmakian Jewelers
PHOTOGRAPHER – Tricia McCormack Photography