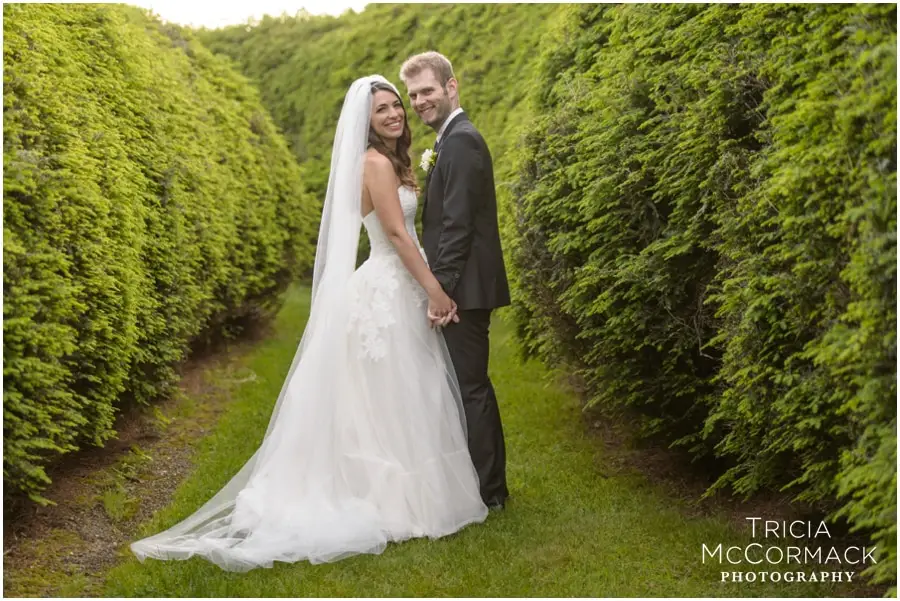 Amanda and Clint were married with a ceremony at Seranak, followed by a reception at Tanglewood. Their engagement session was one of my all-time favorites, so I was really excited to get to be part of their wedding day!
I was in awe as I walked around the ceremony location. Seranak is the home of Serge Koussevitsky, and one of three manor homes on the Tanglewood grounds. It currently serves as housing for guest artists. It was amazing to get to see the old photographs and memorabilia of Koussevitsky as we walked around, and I felt honored to see it in its incredible beauty—especially because it's so rare to have a wedding there.
The reception was at the Tanglewood Chamber Music Hall, and because of Amanda's vision and the talent of florist Carolyn Valenti it was completely transformed for their reception! It was perfect.
Tanglewood has a special place in Amanda and Clint's heart because they are both musicians and Clint plays the flute for the Boston Symphony Orchestra. We are proud here in the Berkshires that the BSO chooses to have their summer home in Tanglewood.
There were so many beautiful moments throughout this wedding, but I think out of everything, I will never forget all of the dragonflies circling overhead during the ceremony. Dragonflies symbolize change and self realization as well as the understanding of the deeper meaning of life. I appreciate their symbolism and how it relates to my career in photography and therefore chose to incorporate it into my brand.
To see the many dragonflies circle the guests throughout the ceremony was in a word, magical.
Amanda & Clint, thank you again so much for allowing me to be part of this amazing time in your lives! This whole experience was absolutely awe-inspiring. And thank you to Tanglewood—this place is a beloved treasure of Berkshire County, and I love doing each and every beautiful wedding that is held there.
xo
Tricia
CEREMONY – Seranak
RECEPTION – Tanglewood
CATERER – Gourmet Caterers
CAKE ARTIST – Patisserie Lenox
FLORIST – Carolyn Valenti Flowers
DJ & LIGHTING – Rob Alberti's Event Services
PHOTOGRAPHY – Tricia McCormack Photography