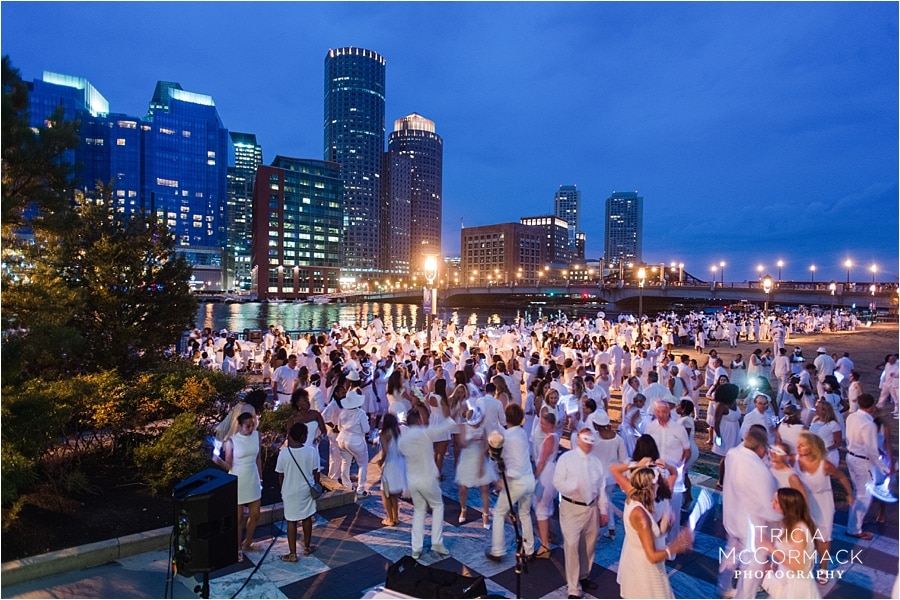 Tricia McCormack Photography was thrilled to be the event photographer for the international event Diner En Blanc when it took place in Boston last week. This event brings out thousands of people dressed all in white, and they gather with decorations, table and chairs – also in white to have an elegant mass "chic picnic" in a space that is only revealed moments before.

This event was expertly planned and the guests were so charming and fashionable. My assistant Lisa was stationed to meet a group in Copley Square and follow them as they took the T to the disclosed location. I caught people meeting at South Station and it was such a pleasure to have my brother Mike, assist me in capturing images as masses of people in white walked over the bridge to the Boston Children's Museum.
Cocktails poured from sponsor Apothic White while a band played setting the perfect mood. The napkin wave was the signal that everyone had their decor and tableware set up and ready to enjoy their food.

As the sun went down, "sparklers" were handed out to the crowds and this marked the start of the party. A DJ played as everyone got up and began to dance the night away. From a photographers perspective this was an unbelieveably gorgeous event to photograph!
Thank you Diner En Blanc Boston for allowing us to be a part of this extraordinary event!
PLANNING – The Davis Group
MEDIA – Moxie Agency
PHOTOGRAPHY – Tricia McCormack Photography
VIDEOGRAPHERS – Rob Ranney