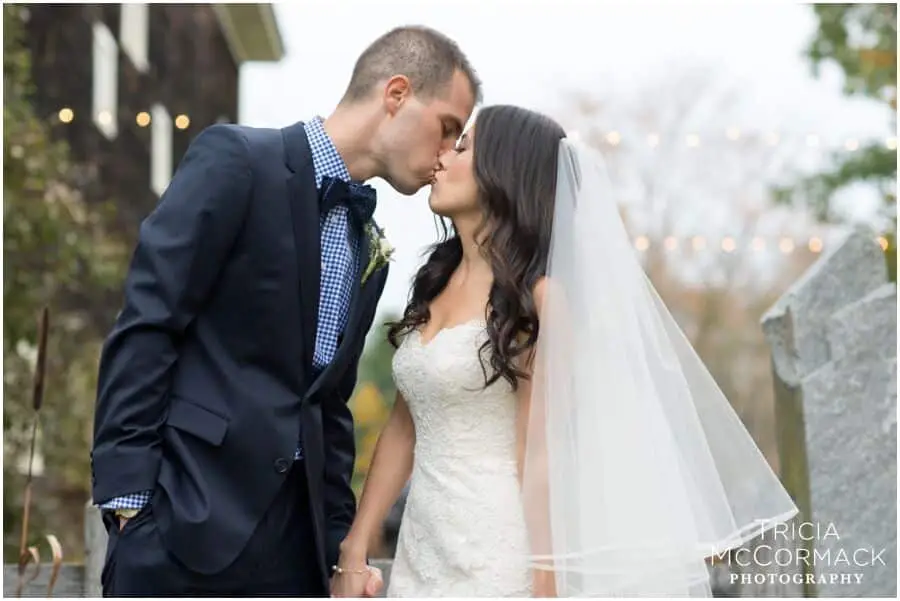 Jillian and Scott were married on October 24th, with a ceremony and reception at Gedney Farm in New Marlborough, MA.
I had been excited to see Jillian and Scott get married ever we did their engagement session near their home in Brooklyn Heights. They were fun and easy to work with, and they just seemed so relaxed in front of the camera—so I knew their wedding was going to be great, too! (I also loved how they embraced their height difference then, and I still love it now!)
It was clear in every moment of their wedding day that they were so in love. You could feel their excitement as they saw each other for the first time!
Scott left his tie untied until they saw each other—it was an important tradition to them, and I thought it was perfect for the first look. Scott is such a gentleman and takes note of the little details, and always makes sure his bride is taken care of. I loved how he worried over her getting cold during the pictures—so sweet.
After the wedding, it was time for dancing and fun! The best man speech had everyone dying of laughter, including my second shooter Lisa and I. Then, the dance floor stayed packed the entire time—the band was incredible!
The reception was such a blast that it was hard to tear them away from the dance floor, but I persisted and coaxed Jillian and Scott into coming out for a last picture of the night. The next day, when they saw the picture, they wrote to me to say they were happy they listened and took that moment to be together.
Jillian & Scott, thank you for allowing me to be part of your amazing day. Your wedding was so much fun, and I wish you nothing but the best in your new lives together!
EVENT COORDINATOR – EFD Creative Events
VENUE – Gedney Farm
FLORIST – Gillooly & Co. Design
HAIR STYLIST & MAKEUP ARTIST – Lari Manz Hair & Makeup
BAND – After Party Band
JEWELER – Weiser Jewelry
TRANSPORTATION – DuFour Bus Company
PARTY RENTALS – Classical Tents & Party Goods
INVITATIONS – Phantastic Papers
VIDEOGRAPHER – Tweed Video Productions
PHOTOGRAPHER – Tricia McCormack Photography