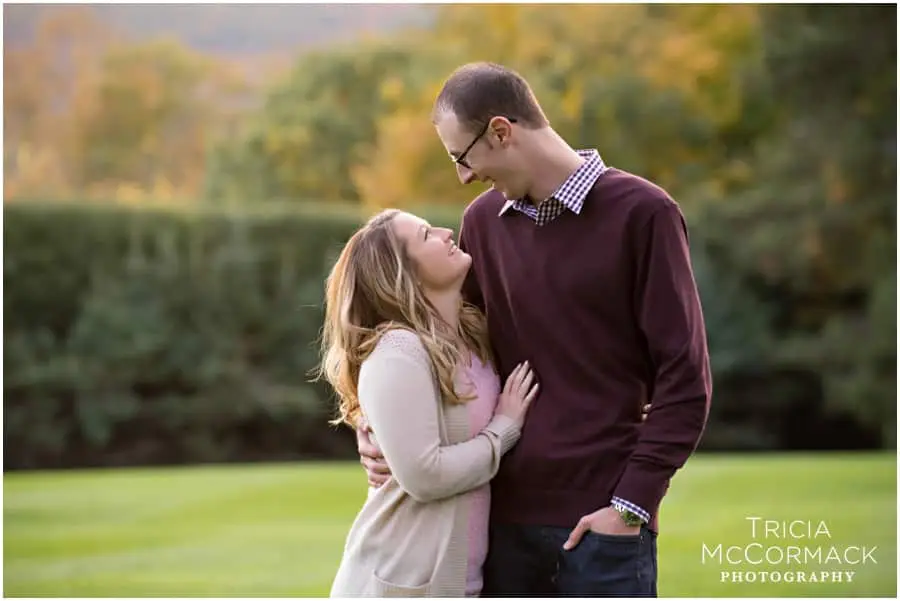 I was so excited to get to do an engagement session with these two sweethearts! Kathleen and Jim drove out from the Boston area to Lenox for a beautiful fall weekday evening, and I think we had a blast.
Kathleen and Jim met outside of high school after a basketball game, and Jim asked her out to his junior prom. The rest, as they say is history. They went to all their high school dances together and dated through college, even though they were separated in college living in Boston and South Carolina! Now, they live in an apartment together with two spoiled cats just 10 minutes away from Westborough, the town where they grew up.
We met up for our session on a gorgeous evening. The natural backdrop was just perfect for these two, because they are huge fans of not just the Berkshires but also the foliage and the coziness that comes with this time of year.
One we started shooting, it was an adventure trying to find poses that worked for them. Kathleen is 5' while Jim is 6'4", so that was a bit of a challenge. But it turns out Jim loves to pick Kathleen up, and it's adorable! So, we incorporated it into the shoot.
But while posing was a fun maneuvering adventure, there was absolutely no trouble getting the "loving look" we wanted. I felt like Jim was beaming throughout the entire session when he looked at Kathleen, and it's obvious that these two are just so in love!
Kathleen & Jim, thank you again for allowing me to be part of this exciting time in your lives and for doing this engagement session with me. I'm so excited for your spring wedding at the Cranwell Resort in 2016—I can tell it's going to be a wonderful celebration.