Every business needs a branding session. Part of having a successful business is showing who is behind it. Whether you're just starting out or have a team of 20, new photos can refresh your marketing, attract the clients you want, and make your brand cohesive. After booking more branding sessions and head shots than ever, I felt inspired to do this for my own business (plus my own team didn't even have their own head shots and we had zero photos of the four of us). Any behind the scenes footage I had of being a photographer was scarce and taken almost by accident.
Setting up a day, making a plan, and having an intention for our own branding session has really helped me to understand the process and experience my clients go through.
In the initial stages of planning our branding session, it was important to identify our brand needs. First things first. Did we need a studio session that would focus more on head shots and team photos or would a lifestyle session in the office showing behind the scenes of our day to day be better? We ultimately decided on both, but you can choose what fits your business's needs best. 
Studio Branding Session
Professional head shots
Team photos
Various combinations of team members
Outfit changes
Lifestyle Branding Session
Happens in your workspace or office
Casual head shots and team photos
Involves props
Behind the scenes
Showcases the client experience
Outfit changes
2. Creating Your Photo + Prop List
You know your business best! Brainstorming a list of photos you hope to have by the end of your branding session is key. For me, I thought about the photos I wanted to use for our email marketing, the things that are important to me as a photographer, and images of my team. If there are images you constantly crave for your website or ideas you want to post about on social media – let's make sure we get those images! The shot list is an important part of this process. Having props (anything you use everyday to run your business) available that we can use during the branding session helps tell the story of who you are and what you do.
Example Photo List
Team Meeting

The Roles of Janet, Kalei, Lisa, and Tricia

Group Photos (3 outfits)

Holding albums to show size and color

Holding album swatches
Photographing details

Packaging prints

Sitting at desks

Working on computers

Tricia writing a thank you note

Tricia + Lisa

Tricia + Kalei

Tricia + Janet
Example Prop List
Stool

Wedding Guide

Styling Kit

Albums

Album Swatches
TMP USBs

Cameras (as props)

Laptops

Mugs

Wedding Prints

Cute Pens
TMP Stationery
Having 3-4 outfit changes is ideal. Why? Variety! During a 1-2 hour branding session we can make it appear like you were photographed on multiple days at different times. This way every time you pull photos from your branding session gallery you're not wearing the same thing. It's also important to think about your brand identity and what you are trying to convey through these photos. Is your business more formal or casual? Do you have a uniform or brand colors that you want to incorporate? Thinking about your aesthetic is a crucial part of outfit planning. 
We planned 3 Outfits:
Black (what we wear to photograph weddings)
Brand Colors/

Casual/Neutral

"What would you wear to the office?"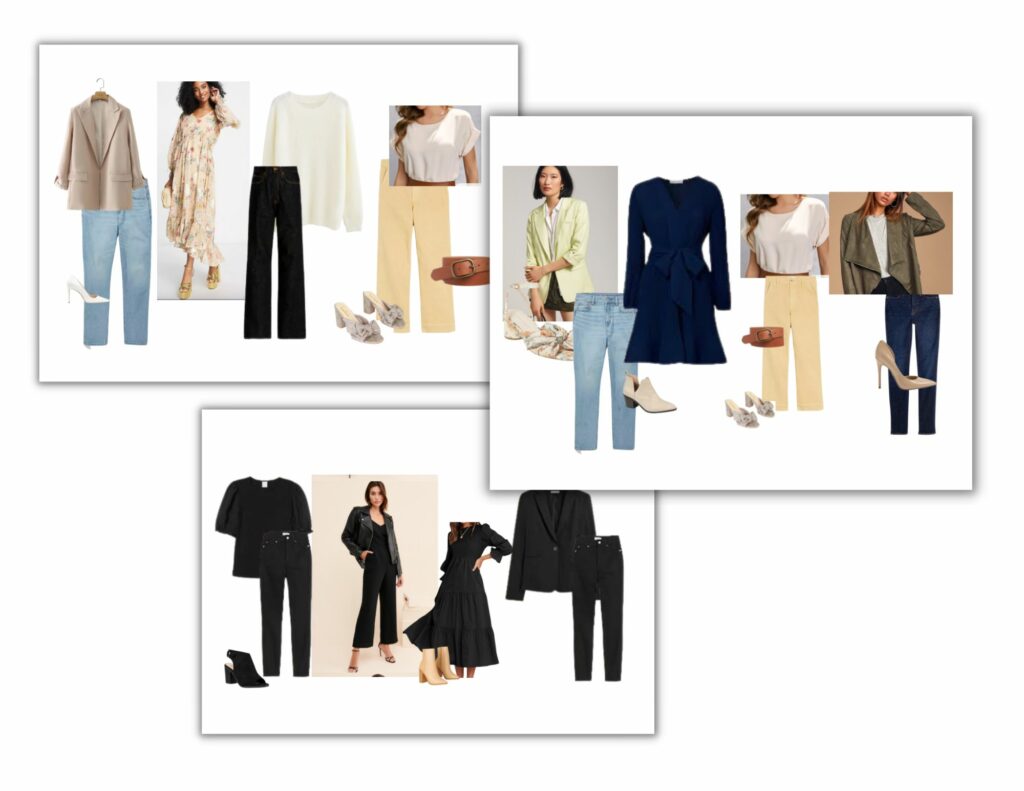 When you feel good, you just have more confidence. It's that simple. Getting our hair and makeup done professionally was one of my favorite parts of our branding session. My go to gal Sonya Heimann was in the studio with us the entire time. She was able to adjust and fix us the whole time. When an expert applies your makeup, the photos just standout. If you're not into hair and makeup no worries, we can still make your head shots gorgeous.