Hi! I'm Lisa! I am the Associate Photographer here at Tricia McCormack Photography and have worked here for over 10 years. When Mike proposed to me I was immediately overwhelmed with all the decisions and planning that went along with orchestrating a wedding (and I'm an experienced wedding vendor!). I've witnessed hundreds of weddings and also just recently got married myself. My wedding day was so special! Now that I have the perspective of being the bride AND the photographer, I thought I would share some tips that I think are helpful during wedding planning.
1. Make sure to get your makeup done towards the start
No matter how much planning you do, hair and makeup can sometimes run late. There's so many moving parts and all of a sudden you're running behind. If the bride is scheduled to get her hair and makeup done in the middle of everyone, the photographer can start getting her into her dress and ready to go while others finish up hair and makeup. This is also something to think about for whoever is helping the bride into her dress (i.e Mother of the Bride and/or Maid of Honor). I planned so much extra time for my getting ready time frame, but a freak accident caused one of my hair stylists to end up in the hospital the day before our wedding. My amazing hair stylist, Sonya Heimann, was able to do everyone's hair in the time frame that I had planned for both of them, but you never know what's going to cause delays on the day of. Also, if you're worried about going too early and your makeup not staying on, I can speak from experience when I say my makeup was still fully intact at 2am.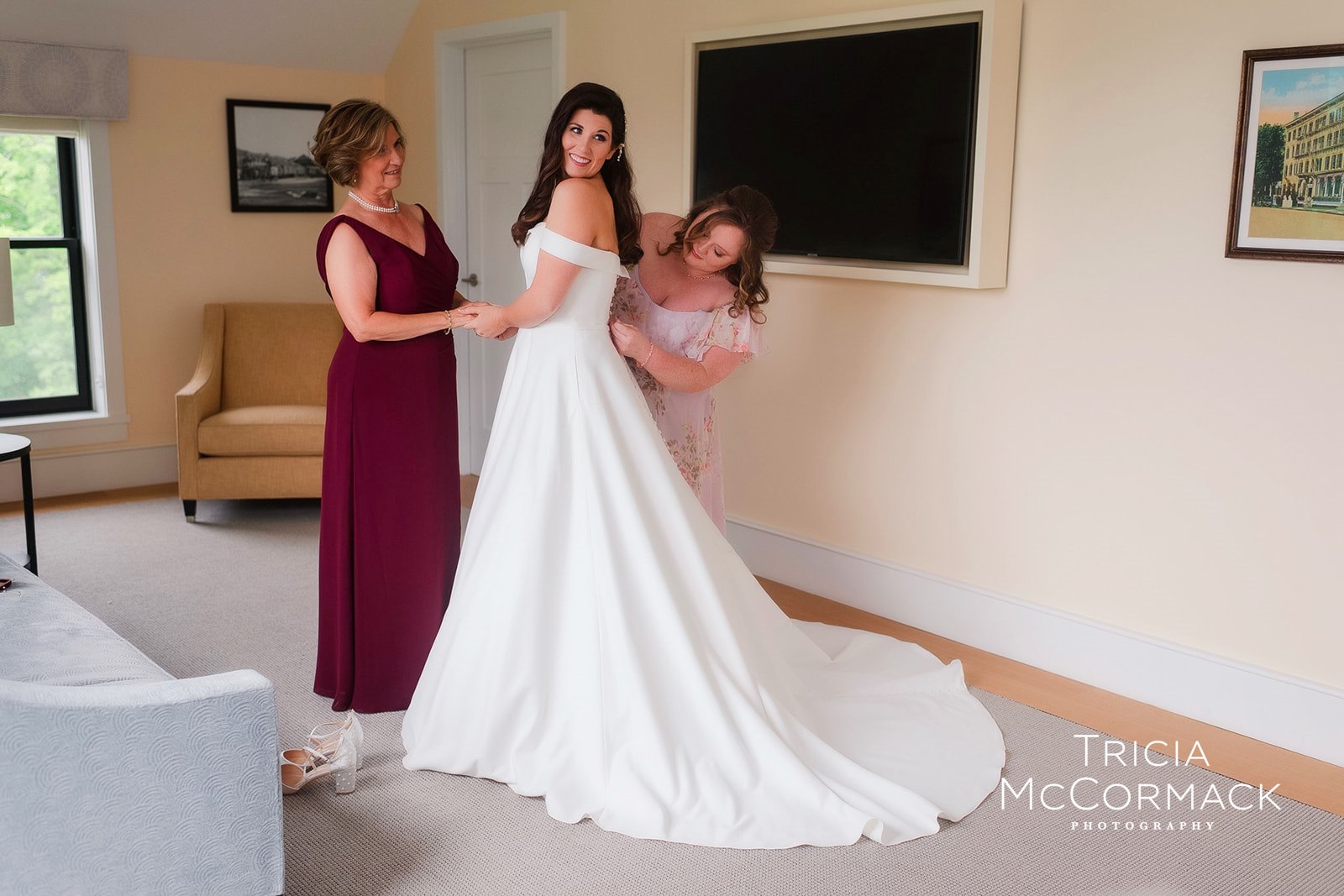 2.Keep your wedding party small
I've seen a range from big wedding parties of up to 12 on each side to no bridal party at all and I will tell you something I notice all the time, a big wedding party tends to cause more stress. I know they are your best friends, but when it comes to coordinating a group of people, you will feel responsible for making sure everyone is where they need to be and moving in a timely manner. As your photographers, we want to get you through your photos and back to your party as soon as possible.  From experience, I've noticed that trying to gather a bunch of (sometimes tipsy) attendants and have them move through photos can be somewhat like herding cats. I'm not saying it's impossible, but I do think it's something to think about if you are trying to plan a relaxed day. I can relate to having a hard time choosing who should be in the wedding party. During our engagement it was a conversation that came up multiple times. For me, it felt like it should be everyone or no one. We chose to have 13 total attendants made up of our closest friends and siblings. It still felt like a big group, but because they were our best friends and family they paid attention to what was needed and helped us work quickly to get the photos done in a fun way. My advice is, don't feel pressured to add in cousins/friends that you haven't seen in a while just because you think you would hurt someone's feelings. You also don't have to have an even number.
3. Keep your family list to a minimum
Continuing with the previous tip, at TMP we always suggest that our couples try to keep their family list to 10-12 combinations. I promise you, you might think you want more, but when it comes time, it will feel so overwhelming and tiring. I knew this and still had a hard time cutting it down! (Of course, Tricia reminded me too). I can honestly say as a bride, I found that part of the portraits exhausting. Looking back, I only really use the photos that have my husband in them too, and I prefer one inclusive photo to the endless combinations. We feel your 10 -12 combinations will take about 30 minutes and then we can give you a break before your ceremony. If there are more groups that you would like to have, we usually suggest making a small list that we can try to get during cocktail hour / the reception.
4. Avoid looking at the weather forecast
The weather, especially here in the Berkshires, changes hourly. We tell our clients not to look at the weather until at least 2 days before the wedding day, and even then it can change so quickly. It's good to have a rain plan, and we will always provide you with the best photos whether it rains or not, but it's best not to stress. I have seen wedding days that were supposed to rain all day and it ended up being the most beautiful sunny day. A lot of times, even if it does rain, there usually is a break in the rain where we can get you out for some gorgeous photos (like Aly and John's rainy wedding at Gedney Farm) On my wedding weekend, Friday was 65 degrees and sunny and the next day it called for rain all day. The best thing I did was not let myself look at the weather, it would have stressed me out. In the end it was a cold and very windy day (in late June) and it rained halfway through our cocktail hour. Also a side note, I'm so glad we did a first look because it rained during the time that we would have been squeezing in all of our formal portraits.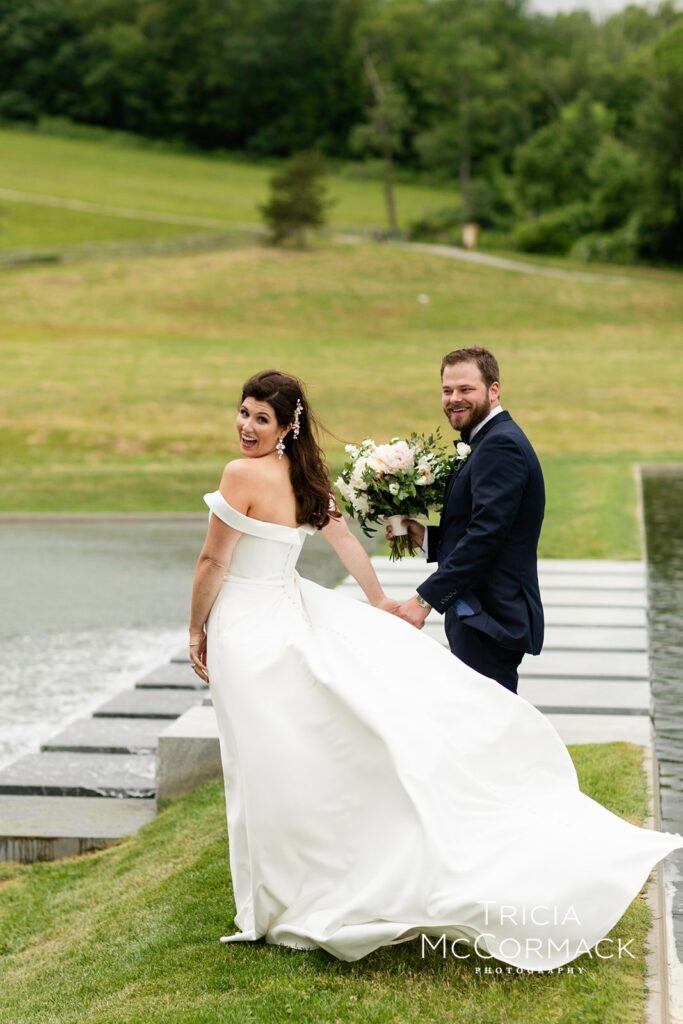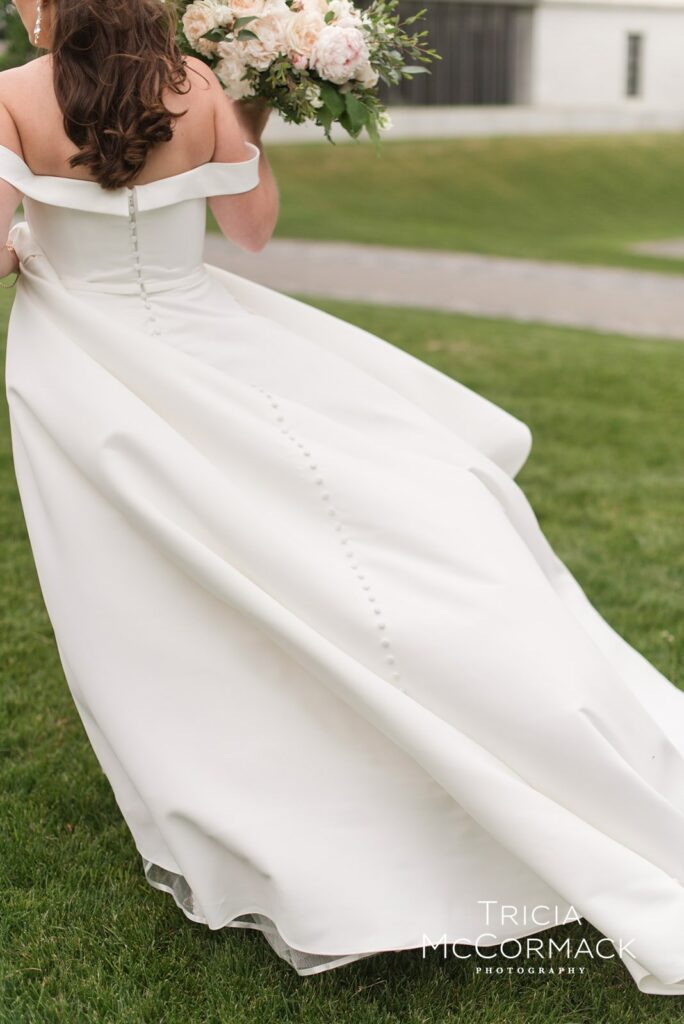 I personally think this is important. I know you may think that your friends and family, or even you, can handle anything the day could throw at you, but having a planner is so helpful! As photographers, we are constantly watching the time and keeping things on schedule, but planners can be a big part of keeping your day stress free and as close to perfect as you can get. Our getting ready and first look ran a little long and we had planned to go to The Clark to do all of our formal portraits. Originally, we were supposed to go alone and do more photos and then the shuttle would go back and pick up our bridal party and family. Our planner realized what was happening and corralled everyone and sent them over so that everyone was ready when we arrived. Between the schedule we had and the threatening rain, I was so glad that Danecca & Co was there to help keep us organized and on track.
If you are hoping for a day that is relaxed and fun, I highly suggest doing a first look. It's an easy way to get rid of the jitters and also get all of your formal photos finished so you can party after your ceremony. Check out this memorable first look from Raia and Alex's wedding – a wedding I photographed on my own!. As someone who works with clients to create a timeline for their day, I see a big difference in wedding days with a first look vs one without. A first look allows you to see each other right away and spend so much more of your day together. You get to spend quality time with each other before your ceremony and get all the anxiety you might be feeling out of the way. You get to have ample time for your portraits, do all of your bridal party and family portraits before the ceremony and make it to your whole cocktail hour. If you are at your cocktail hour, that means we are too! Because we aren't doing formal photos at this time, we are able to get photos like detail shots of your reception space, photos of your guests at cocktail hour, and any groupings we couldn't get in the earlier part of the day. You get so much more out of your photography investment when you have a first look and it really does help you enjoy so much more of your wedding day. We did a first look and it was the best decision I could have made. We both felt calm and grounded heading into our ceremony and were able to focus because we had already seen each other and spent time with one other already.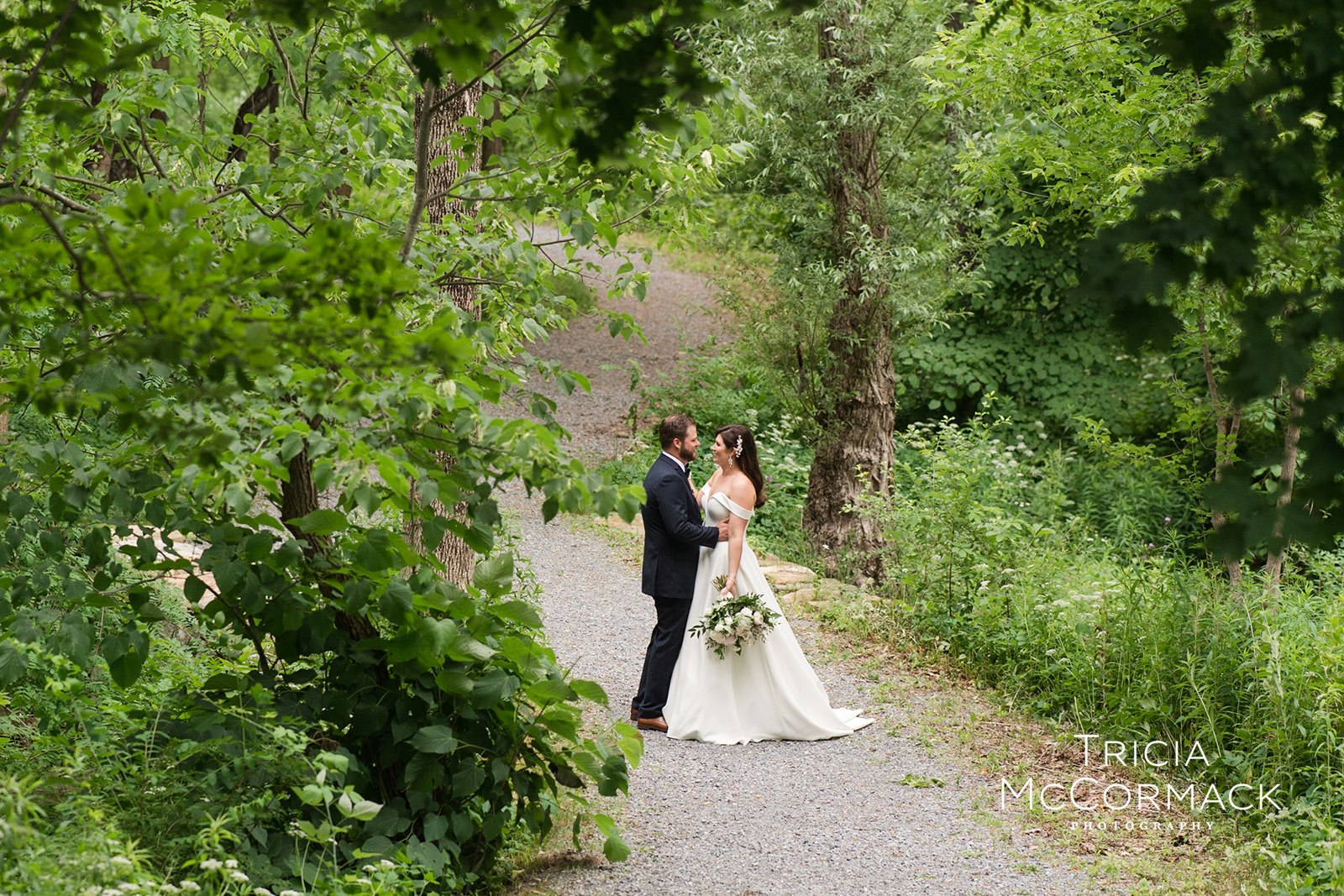 7. Let us be creative during portraits
You're probably looking through Instagram and Pinterest, or maybe even our blog. I'm sure you've seen some photos that you really want to replicate. We suggest not providing a shot list with poses. We will ask what kind of photos are most important to you, but if you give us exact photos that you want us to replicate, we will be so focused on trying to get those for you that we will lose the magic of being creative and telling your story. The most successful portraits are the ones where you are truly being yourselves together and just having fun. As a photographer myself, I obviously had high hopes for our photos, but I knew that we were in great hands and that we just had to trust the process and we would get amazing photos. 
8.Hold your first kiss and walk slowly down the aisle
Your officiant has just announced that you're married! You may now kiss! Don't forget to hold the kiss a little longer and really give your photographer a good opportunity to capture this moment. Along with this, make sure to take your time walking back down the aisle. It will allow you to take it all in and also give your guests a chance to watch you walk by. Maybe stop and give each other a kiss for an extra photo op! We felt swept up in the emotions, but I reminded my husband and I to take our time during these parts because it really was the moment we had been waiting for! I'm so glad we didn't rush because I felt like we were able to really take in everything and enjoy our first moments together.
9. Take a moment to escape
Something I feel so strongly about is finding a time during your wedding day to escape together as a couple. Whether it's right after the ceremony, or during the reception, I think it's so important to take a quiet moment together to really be present with one another and take in your day. When my husband and I got married, we went up to our suite at The Williams Inn and I had our planner leave us some of our hors d'oeuvres and signature drinks. We took the chance to debrief a little, we laughed about some funny moments that happened and took the opportunity to freshen up before heading back.  We walked back to our party feeling like we had a moment to reset, and that view of all of our favorite people in one room is something I will never forget.
10. Sit close to each other during speeches
We love getting great reactions during your speeches. Your parents, siblings, or best friends have spent months (or maybe just a few minutes that morning) writing a speech that honors you as a couple. We want to capture all of your reactions so that you can relive those moments again and again when you look through your photos. If you are sitting close to each other, it is easier for us to capture these photos of the both of you in one image rather than separately.  Another quick note: Try not to eat during the speeches, you won't love a photo of you stuffing food in your mouth. I loved sitting close to my husband during the speeches, we were able to hold hands, whisper into each others ears, and just enjoy feeling all the love coming from our family and friends. It was one of my favorite moments of the night.
11. Let it all go and enjoy
On the day of, try to let it all go and enjoy. Its very common that something won't go to plan, but it's usually just something small and in the grand scheme of things, meaningless. On my own wedding day, we had a few things that didn't go quite as planned, but I knew that I had hired the best vendors who would take care of anything that might come up. I knew that stressing about those things would only make me miss other special moments and memories. All of the planning, the details, the insane questions you get the week before the wedding are all for one purpose: a moment in time to celebrate you and your partner. You have done all of the hard work to make sure everything is perfect, now relax and enjoy.  If at the end of the day you get to marry your best friend, it all went exactly the way it was supposed to.